Segment Transcript
I'm Laura Reynolds with CarProUSA. Ford Performance Marketing Manager Rob Johnston talks about the 26th annual Woodward Dream Cruise coming up in Detroit on August 21. Johnston: "Well, you're going to see all kinds of interesting classic cars, current cars, show cars, motorcycles, you name it, old, new it's just a great place to take in automotive at its best. But from Ford Motor Company we actually have several locations along Woodward where we have displays and we showcase the best of Ford Motor Company. It's a great opportunity for us lean into our heritage with the classic car culture, but also showcase the best of Ford Motor Company what's to come and we're certainly going to be doing that this year at Woodward Dream Cruise. We're going to have the Mustang Mach-E out there, the F-150 Lightning, you know we're really leaning into our icon vehicles when it comes to electrification with those two vehicles. We're also going to have the new Maverick small pickup truck out there and we're going to have the full lineup of Broncos as well." The Woodward Dream Cruise will be held in Detroit on August 21st.
Toyota Vehicle Marketing and Communications Manager for Tacoma and 4Runner Yash Shah talks about the interior, safety features and tech of the 2022 Toyota 4Runner TRD Sport. Shah: "So on the inside we'll have the black SofTex interior with the unique gray stitching that goes across it. We'll have our TRD shift knob with also unique gray stitching. TRD Sport floor carpet mats, and then also a TRD logo embroidered headrest, so lots of TRD throughout the inside to really make it pop out. So this will have our standard TSS safety features so we'll have our pedestrian collision detection, automatic headlights, dynamic radar cruise control, so all of the safety tech that makes us one of the best safety providers in the industry. All of it comes standard. We'll have an 8-inch screen available and so this will have all the great multimedia connectivity such as Apple CarPlay, Android Auto, so no issues with connectivity there." The 4Runner TRD Sport comes with power moonroof, ventilated disc brakes, standard full-size spare plus 120-Volt A/C power outlet. Starting MSRP is just over $40,000.
With today's Auto News, I'm Laura Reynolds.
---
Photo Credit: Toyota.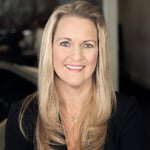 A radio news journalist veteran, Laura interviews top auto industry execs for our Auto News features. While she loves the car industry, if Laura won the lottery, she just might leave it all behind to pursue her other passion, cooking. Two of her signature dishes are roast chicken and lasagna - yum! An optimist, Laura loves to make people laugh. If she could have any car, it would be a Mustang. Well, actually 5 - she'd like one from each decade.
Recent News