Segment Transcript
I'm Laura Reynolds with CarProUSA. Toyota has announced the 2023 Toyota GR Supra will have an available six speed intelligent manual transmission and enhanced drive dynamics. The intelligent manual transmission software prioritizes a sportier performance. The manual transmission will be available on the GR Supra 3.0, 3.0 Premium and a limited A91-MT edition model. The A91-MT Edition will be limited to 500 units for the U.S. Market.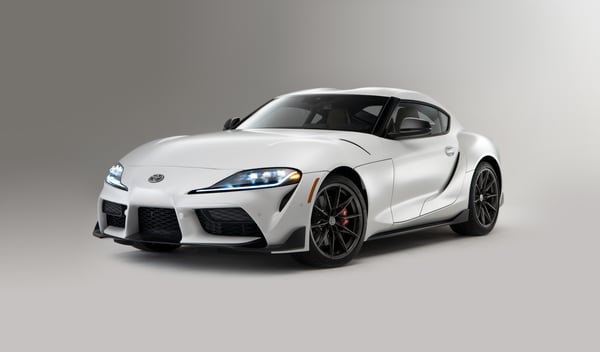 Photo: Toyota.
It will come in two exclusive exterior colors, Matte White and CU Later Gray with a unique Cognac leather trimmed interior. Handling has been refined across all GR Supra 3.0 models with new steering and suspension tuning and new Hairpin+ function. The new Hairpin+ feature is designed to give more freedom when taking tight bends on an uphill gradient with a high friction road surface. Toyota has also optimized engine torque control to allow for a greater difference in the degree of wheel spin on the left and right side tires. For more information on these and other vehicles, check out CarProUSA.com. With Today's Auto News, I'm Laura Reynolds.
Photo Credit: Toyota.