Become a CarProUSA Certified Dealer.
At CarProUSA, our mission is to offer consumers the absolute best car buying experience they've ever had.
By becoming a CarProUSA Certified Dealer, you commit to delivering that VIP Experience to each and every CarProUSA customer.
Become a CarPro
Why CarProUSA
Our Referral Engine is Strong
We have built our reputation on providing straight talk and honest answers about car buying both on the radio and online, resulting in a strong referral engine. Read: Our Certified Dealers close CarProUSA referrals at a high rate.

Referral buyers are confident they'll get a fair price and our dealers are able to make a fair profit on the purchase. When a CarProUSA Referred Buyer (a VIP) shows up at your dealership they are not only likely to buy a car, they also provide other benefits.
CarProUSA VIPs are more than a buyer.
Working with a CarProUSA™ referral is like getting a phone call from a friend who wants to buy a car from you. Once a buyer has a positive experience, word of mouth leads to their friends and family committing to your dealership for future car purchases for a lifetime.
CarPro VIPs tell others about their experience, resulting in even more referrals
They service their vehicles with the dealers they trust
They provide positive customer service feedback resulting in higher CSI (consumer satisfaction index) scores
And they purchase future vehicles from a CarProUSA™ Certified Dealer
The CarProUSA VIP Experience
People do business with people they know and trust. It's nearly a universal truth that most consumers have a strong distaste for the car buying process. Not everyone has the benefit of a personal connection with a dealership, but those who do have greater confidence in the car buying process.

When CarProUSA Referred Buyers walk into a dealership they too can have confidence as if the dealer was a close friend. The VIP Experience our dealers create is what continues to sell more cars.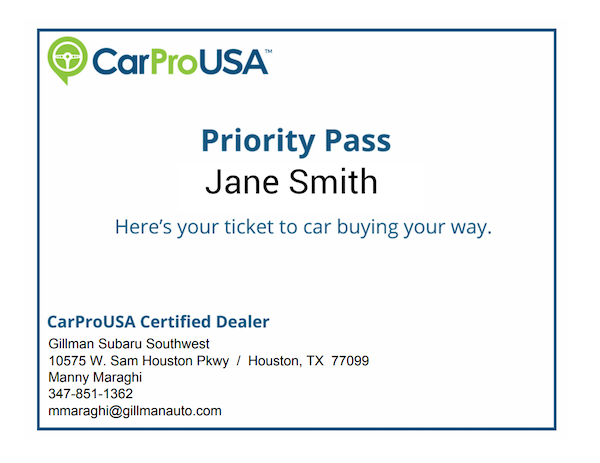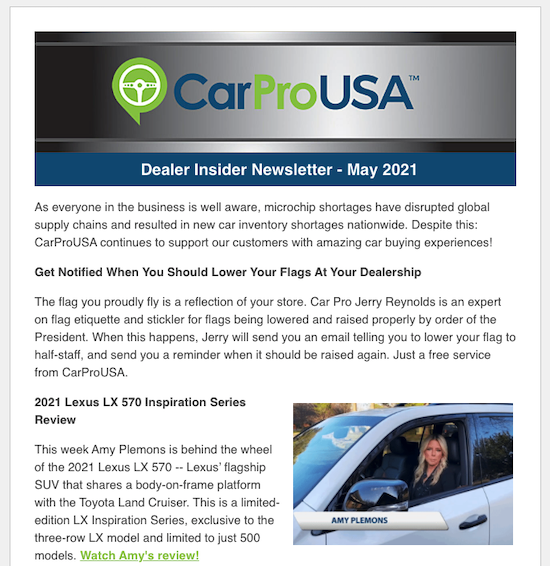 CarProUSA Dealer Insider Newsletter
Each month, you will receive our Dealer Insider Newsletter containing resources and information aimed to help you get the most out of your relationship with CarProUSA.

We'll also share our latest exclusive car reviews, highlight top dealers and customer raves, and include links to new articles on CarProUSA.com.
We want you to succeed
We provide materials and support to make it easy for you to provide a VIP Experience to any customer.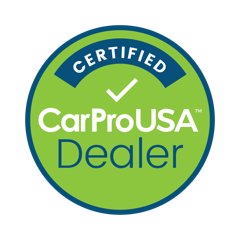 Window Decals
Place the CarProUSA™ logo window decals on the doors at every entrance to let customers know you are a CarProUSA™ Certified Dealer.
Website Assets
The CarProUSA™ logo must be visible on your dealership website homepage with a direct link to your Dealer Page on CarProUSA.com.
The CarProUSA™ Promise
All dealership employees are expected to uphold the tenants of the CarProUSA™ Promise, not just the designated CarProUSA™ Certified Managers.
Real people. Real reviews.
Our Customer Review Policy
You must not receive more than three negative CarProUSA™ customer reviews within a six-month period. A negative review is a score of 1 or 2 stars out of 5. You must respond to any negative reviews to the customer's satisfaction within 2 days. CarProUSA™ will follow up on any negative reviews to ensure the dealer handles them appropriately.
You have the opportunity to provide additional insight and provide a response. Multiple negative customer reviews can result in loss of Certified Dealership status. If you do not respond, the negative review will appear on your dealer page with a version of the following response from our team:
We apologize for your negative experience with [dealership name]. At CarProUSA™, we are committed to providing our customers with an outstanding car buying experience. We value our customers and truly appreciate the time to share your opinions. We have reached out to our contact at the dealership, forwarded this information to them, but unfortunately we have not received a response.





I have purchased vehicles in the past, but this was the best car buying experience I have ever had. Being a CarPro listener definitely paid off for me. Everyone at Freeman Toyota was amazing.
Robert Stewart
Arlington, TX
January 4, 2021





Best experience we have had dealing with a dealership. Everyone was professional and friendly. I can see why Rotolo is a certified dealer. If you live in Southern California, you need to buy or lease from Rotolo Chevrolet hands down.
Barbara Betterley
Apple Valley, CA
March 5, 2021





Grisel was great. She took her time with my wife, who purchased the car. This was the fourth car we have purchased from a CarPro affiliated dealership; two cars for us and two for our daughters. Like the others, the experience was excellent and painless.
Steve Kelley
Tomball, Texas
February 5, 2021





I'd recommend Newport Lexus to anyone looking to buy a car. They gave me a fair trade-in allowance on my 2015 vehicle. Vance Remmey was an extremely knowledgeable salesman and the dealership itself was top notch. Two weeks later, I walked through Newport's garage while my boyfriend was looking for a car. It's immaculate! Cleanest garage on the planet!
Joyce Connor
Newport Beach, CA
April 12, 2021





A wonderful dealership that is run very differently from most others. They have a very customer-oriented and no-pressure approach that should be a model for other dealerships. Both Cyole Baker and Matthew Heydrich were extremely helpful and informative. Matthew spent a lot of time answering questions in a straight-forward way that was refreshing.
Richard Jones
Elk Grove, CA
March 4, 2021





This was the second time buying from this dealership and everything went smoothly. Mr. Fred Forshey at Lexus of Clear Lake is first class. The car was ready for a test drive, he showed me how everything worked, and had the car cleaned for us while we were with the finance department. We signed the papers with the help of Mr. Peter Brown, and the car was ready when we were done. Thanks CarPro!
Rickey Henson
Spring, TX
January 12, 2021





Mike went above and beyond. I arrived at Classic Chevrolet Grapevine after driving over 2 hours from my home in Temple, TX. Mike stayed late (on a Saturday!) and made sure I was taken care of. He even helped me move my tool box from my old truck to the new one.
Joseph Mayer
Temple, TX
April 9, 2021





It was a great and painless experience. The customer service was excellent. I would recommend CarPro and Nissan of Elk Grove to everyone.
Debi Boswell
Sonora, CA
March 11, 2021





Jorge did a great job communicating with my wife and I and made sure we were comfortable each step of the way. He answered all all our questions and made it a very smooth process for us. This was definitely a five-star experience at Tomball Ford!!
Dennis Taylor
Houston, TX
February 8, 2021





Just an awesome experience at Serra Acura; great car, great price, good financing. It was actually fun - not the horrifying ordeal buying a car normally is.
Edward Prozialeck
Clinton, OH
February 5, 2021
Become a certified dealer today!
Fill out the form to connect with our team.
We'll connect with you to answer any questions you may have and make sure we're a fit.
You'll complete our Certified Dealer Onboarding.
Start selling to CarProUSA VIPs!
Thank you in advance for your commitment to providing an outstanding car buying experience one customer at a time. Together we will sell more cars!