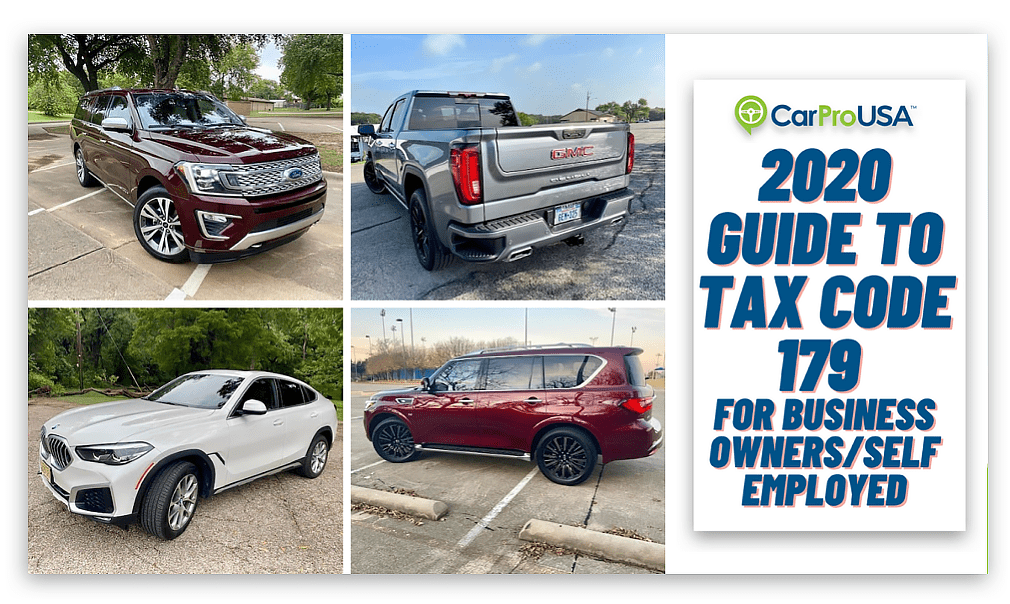 It's that time of year: Below is our annual guide to Tax Code Section 179 for self-employed and business owners who buy a vehicle.
Tax Code 179
Tax Code 179, the special deduction to write off equipment in the year purchased, was extended permanently in 2015 legislation. This has been further liberalized by the Tax Cuts and Jobs Act (TCJA) that Congress enacted in December 2017.
Beginning in 2018, this special deduction allows businesses to write off up to $1 million worth of depreciable assets in the year that they are purchased. This can include new and used machinery, heavy equipment, furniture and fixtures, and certain vehicles, mainly SUVs and pickup trucks.
There are certain limitations to the rule in addition to the $1 million cap. For example, if you purchase more than $2,500,000 in assets for the year, then you will have this deduction phased out. Also, you must have positive income and not a net loss for the year. However, if you meet these guidelines, then it can be a great idea to move those vehicle purchases you are planning for next year forward to 2020 to take advantage of last-minute tax savings. You must purchase the vehicle by December 31, 2020 to get the write-off on your 2020 taxes.
Bonus Depreciation
Another great tax break, Bonus Depreciation, has been made even better by the TCJA. Bonus Depreciation allows you to deduct a specified percentage of the cost of assets in the year of purchase. This deduction is allowed even if you do NOT have income and has no max amount. You can use this for an unlimited number of purchases. The percentage is doubled to 100% for assets purchased after September 27, 2017. For assets purchased after this date, the $25,000 cap which applies to SUVs and crossovers with a Gross Weight above 6,000 lbs. utilizing Section 179 does not apply to those vehicles utilizing Bonus Depreciation. Assets eligible for Bonus Depreciation now include used assets. The Bonus Depreciation percentage of 100% is temporary and is scheduled to be phased down beginning in 2023.
Limitations
Keep in mind that vehicles are subject to limitations on any of the depreciation deductions. The vehicle must be used at least 50% for business to qualify. Also, there are top end deductions for different classes of vehicles. For example, small cars under 6,000 lbs., Luxury autos are capped at $18,000 of depreciation in the first year, $10,000 if bonus depreciation is not taken due to luxury auto limitations, the IRS has imposed to help discourage the depreciation of high value vehicles. SUVs and crossovers with Gross Weight above 6,000 lbs. are capped at $25,000 if Section 179 is taken. SUVs and crossovers with Gross Weight above 6,000 lbs. do not have a cap if Bonus Depreciation is taken. Pickups and vans with no rear passenger seating that are above 6,000 lbs. also do not have a cap. Every major brand of pickup (1/2 ton and up) are over 6,000-pounds for purposes of this deduction. This includes Ford, Ram, Chevrolet, Toyota, GMC, and Nissan. When you get down to the mid-sized trucks you might be surprised to find that some of these are right on the line. A 2018 Chevrolet Colorado crew cab is over the weight limit, but the extended cab is not, so it might save enough in taxes to make it worthwhile to upgrade to the bigger size. If Section 179 or Bonus depreciation is used standard mileage rates cannot be used for any periods after the year depreciation is taken and actual auto expenses (fuel, tires, repairs, etc.) must be tracked going forward.
Mileage Rate Changes
Another great automobile deduction that is often overlooked is the mileage deduction. This is a unique deduction because it does not matter how much you actually spend but matters how much you drive. This is the deduction you use if you are not depreciating the cost of your vehicle. This would be used when mileage is a better deduction than depreciation, or when depreciation is not allowed (for example if you used your vehicle less than 50% for business).
The mileage rate is decreasing from the 2019 tax year amount of 58 cents per mile, down to 57.5 cents per mile for the 2020 tax year. The calculation is as simple as it sounds: if you drove 10,000 miles for business purposes, then you get a mileage expense of $5,750.
This deduction is much easier than keeping track of your expenses for gasoline, oil changes, tire replacement, etc. Keep in mind, however, that you cannot double dip and use the mileage deduction in addition to expensing your gasoline, oil changes, tire replacement, etc or. In addition, if Section 179 or Bonus depreciation is used standard mileage rates cannot be used for any periods after the year depreciation is taken and actual auto expenses (fuel, tires, repairs, etc.) must be tracked going forward.
Which Vehicles Qualify
Here is a quick reference to some 2020 and 2021 vehicles that are over 6,000-pounds GVWR. There may be others not listed here, and I also highly recommend you look on the inside of the driver's door to verify the Gross Vehicle Weight Rating, sometimes equipment and options push a vehicle over the limit to qualify, and conversely a lack of options can keep a vehicle from qualifying, so do your homework! In alphabetical order by brand:
Audi
AUDI Q7 & SQ7
AUDI Q8 & SQ8
BMW
BMW X5 M
BMW X5 XDRIVE35I
BMW X6 M
BMW X6 XDRIVE35I
BMW X7 (all models)
Bentley
Buick
BUICK ENCLAVE 2WD
BUICK ENCLAVE 4WD
Cadillac
CADILLAC ESCALADE 2WD
CADILLAC ESCALADE AWD
CADILLAC XT5
CADILLAC XT6
Chevrolet
COLORADO 2.8L AWD
SILVERADO C1500
SILVERADO C2500
SILVERADO C3500
SILVERADO K1500
SILVERADO K2500
SILVERADO K3500
SUBURBAN C1500
SUBURBAN K1500
BLAZER
TAHOE 2WD LS
TAHOE 4WD LS
TAHOE HYBRID
TRAVERSE 2WD
TRAVERSE 4WD
Chrysler
CHRYSLER PACIFICA
CHRYSLER PACIFICA HYBRID
Dodge
DODGE DURANGO 2WD
DODGE DURANGO 4WD
DODGE GRAND CARAVAN
Ford
FORD EXPEDITION 2WD
FORD EXPEDITION 4WD
FORD EXPLORER 2WD
FORD EXPLORER 4WD
FORD F-150 and larger 2WD
FORD F-150 and larger 4WD
FORD FLEX AWD
GMC
GMC ACADIA 2WD
GMC ACADIA 4WD
GMC SIERRA C1500
GMC SIERRA C2500 HD
GMC SIERRA C3500 HD
GMC SIERRA C3500 HD
GMC SIERRA K1500
GMC SIERRA K2500 HD
GMC SIERRA K3500 HD
GMC YUKON 2WD
GMC YUKON 4WD
GMC YUKON HYBRID
GMC YUKON XL C1500
GMC YUKON XL K1500
Honda
PILOT 4WD
HONDA ODYSSEY
HONDA RIDGELINE AWD
Infiniti
INFINITI QX80
INFINITI QX56
Jeep
JEEP GRAND CHEROKEE
JEEP GLADIATOR RUBICON
Land Rover
RANGE ROVER 4WD
RANGE ROVER SPT
DISCOVERY
DEFENDER
Lexus
Lincoln
LINCOLN MKT AWD
LINCOLN NAVIGATOR
LINCOLN AVIATOR
Maserati
Mercedes Benz
MERCEDES-BENZ G550
MERCEDES-BENZ GLS
MERCEDES-BENZ GLE
MERCEDES-BENZ Metris & Sprinter
Nissan
NISSAN ARMADA 2WD
NISSAN ARMADA 4WD
NISSAN NV 1500 S V6
NISSAN NVP 3500 S V6
NISSAN TITAN 2WD S
Porsche
Ram
RAM Promaster 1500-3500
RAM 1500 and up
Rolls-Royce
Subaru
Tesla
Toyota
TOYOTA 4RUNNER 2WD LTD
TOYOTA 4RUNNER 4WD LTD
TOYOTA LANDCRUISER
TOYOTA SEQUOIA 2WD LTD
TOYOTA SEQUOIA 4WD LTD
TOYOTA TUNDRA 2WD
TOYOTA TUNDRA 4WD
While every effort was made to make sure this list was accurate, Car Pro USA is not responsible for errors or omissions.
IMPORTANT REMINDER: Check the label inside the driver's door to verify the GVWR is 6001 pounds or greater.