One year ago, I had serious concerns if big auto shows would return to the United States after they were all canceled due to the Coronavirus. It is great to see Chicago starting back up this week. This is a big test to see if people are ready to return, and if the automakers will support the show, give the microchip shortage.
New Vehicles
Here are some of the new vehicles you can see at the Chicago Auto Show Special Edition which runs from July 15-19th at McCormick Place:
Toyota:

2022 Corolla Cross, GR 86, Tacoma TRD Pro 3.0, Tacoma Trail Edition, 4Runner TRD Sport

Lexus:

2022 Lexus NX, IS 500 Performance Launch Edition

Ford:

2022 Ford Maverick, F-150 Lightning
Ram : 2022 Ram 1500 BackCountry, Ram 1500 G/T Models

BMW:

2021 M3 and M4, 2022 iX EV SUV

Kia:

2022 Carnival, 2022 EV6

Nissan:

2022 Ariya, Z Proto Concept, 2021 Nissan Armada

Chevrolet

: New 2022 Bolt EUV, updated 2022 Traverse.

Jeep

: Grand Cherokee L, Wrangler Xtreme Recon Package

Volkswagen:

2021 ID.4, 2022 Taos, Golf GTI and Golf R.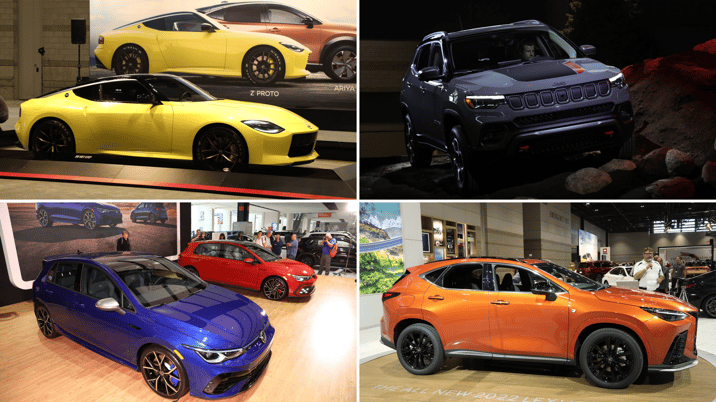 Photo Credit: Chicago Auto Show.
Chevrolet, Chrysler, Dodge, Fiat, Ford, Jeep, Kia, Lincoln, Ram and Subaru will all offer various vehicle test drives. Attendees will also have the chance to get behind the wheel of the new all-electric Volkswagen ID.4.
"We're delighted to be able to bring the ID.4 Roadshow to the Chicago Auto Show," said Kimberley Gardiner, senior vice president for marketing, Volkswagen of America. "We have found that once people experience how well this car drives as well as its spaciousness and high-tech features, the ID.4 has the potential to bring EVs into the mainstream. We are already seeing that the majority of buyers are being conquested from traditional vehicles."
Ford will also debut its Built Wild and Built to Electrify consumer experiences at the show.
Built Wild is a 30,000-sq.-ft. custom experience where auto show attendees can participate in a series of hands-on activations to help them understand accessorization, modularity and connectivity of the new Bronco family.
Built to Electrify is a 11,000 sq.-ft. experience showcasing how Ford will charge into the electric revolution with a range of vehicles, both retail and commercial, including the all-new Ford F-150 Lightning, Mustang Mach-E and E-Transit.
"This show's new outdoor element has been a positive for us, allowing us to pick up new activations and ride-and-drive experiences such as the VW ID.4 Roadshow and Ford's Built Wild and Built to Electrify experiences," said Chicago Auto Show General Manager Dave Sloan. "This is a great opportunity for attendees to take a deeper dive into EVs by test driving vehicles such as the ID.4, F-150 Lightning and Mustang Mach-E and speaking with product specialist experts who can help explain what is uncharted territory for many people."
Blood Drive
Versiti Blood Center of Illinois will again partner with the show this year to host the 23rd annual Dennis Buckley Memorial Blood Drive during the show at McCormick Place. Dennis Buckley helped lead the auto show for many years and was the driving force behind its blood drives. After his 2004 passing from cancer, CAS says the drive was named in his honor. Versiti Blood Center of Illinois will bring its 40-foot mobile coach bus as the backdrop for the drive on the show floor.
"We are thrilled to continue our partnership with Versiti Blood Center of Illinois to host the 23rd annual Dennis Buckley Memorial Drive. Donations made in Dennis's memory have resulted in thousands of lives saved," said David Sloan, general manager of the Chicago Auto Show. "This year, in an effort to address the critical blood shortage, we are excited to also partner with A Pint for Kim and The Hamilton Car Collection to offer Versiti blood donors who donate at the show an exclusive 'inside the ropes' photo op with the Bugatti Chiron supercar. We are always amazed at the generosity of Chicago Auto Show attendees and this opportunity is one they won't want to miss."
One very lucky donor will have a chance to win a joyride in the region's only Bugatti Chiron, courtesy of The Hamilton Collection. Donors will also be entered to win a $500 Amazon gift card on behalf of A Pint for Kim. All attempting donors will receive a free commemorative Versiti auto show t-shirt.
Versiti supplies blood products to 86 hospitals in Chicagoland and Northwest Indiana. All blood types are needed, but especially type O negative, which is the universal type that can be safely received by all patients and is given to those undergoing surgery, kids and adults battling cancer and those in emergencies.
It takes about an hour to complete the donation process with the actual donation taking 10 – 15 minutes. Anyone age 17 or older in good health who meets eligibility requirements can give blood. Donations can be made July 15 –18 between 10 a.m. – 8 p.m. and on July 19 between 10 a.m. – 6 p.m. For an appointment, call 1-800-7TO-GIVE (1-800-786-4483) or visit versiti.org/Illinois.
---
Photo Credit: Chicago Auto Show (2020).