If you're a fan of vintage trucks, you're likely to be impressed with this collection. The Hays Museum Antique Truck Collection is headed to auction at Mecum Auctions' 2022 Gone Farmin' Spring Classic in Illinois in late March.

Hays Museum Antique Truck Collection
The collection features 37 vintage trucks that range in years from 1903 to 1953. It includes rare models from the makes of Peterbilt, Fageol, Diamond T, Pierce-Arrow, Selden, Packard and more. All 37 trucks will cross the auction block at no reserve on Friday, March 25. Mecum Auctions calls it an extraordinary opportunity to bid on one of the most significant truck collections ever offered at a singular auction event.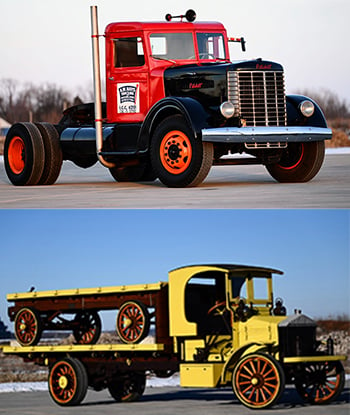 Above: 1939-40 Peterbilt Model 260GD 5-Ton Truck
Below: 1918 Pierce-Arrow Model X-4 2-Ton Lumber Truck
The Hays collection lineup includes the only first-generation Peterbilt ever to be offered at auction: the 1939-40 Model 260GD 5-Ton Truck (Lot K11). It is believed that fewer than five first-generation Peterbilts exist today, and this rare example was used as a benchmark to restore the Peterbilt that is currently on display at the company's own headquarters in Texas.
Considered to be one of the highest-quality trucks of the era, a 1918 Pierce-Arrow X-4 2-Ton Lumber Truck (Lot K15) is another shining star among the Hays collection offerings. It's a complete and correct example of an early Pierce-Arrow truck and is one of the most intricate trucks in the group. The 1903 Knox Three-Quarter Ton Stake Truck (Lot K17)—the oldest truck in the collection—is a one-of-a-kind example of a truck from the turn of the century; in fact, it's one of the oldest trucks in existence. It is the only known Knox truck with a single-cylinder engine and is the earliest truck ever offered by Mecum Auctions.
Other highlights from the Hays collection include a 1911 Packard Model D 1.5-Ton (Lot K25), a 1917 Standard Type B Liberty 3-Ton Flatbed with Sideboards (Lot K22), a 1914 Kelly-Springfield Model K-40 3-Ton Chassis (Lot K18) and a 1912 IHC Model AW Half-Ton Express (Lot K33), to name a few.
The Gone Farmin' Spring Classic auction also includes hundreds of vintage and antique tractors, signs, relics and more. It's open to buyers and spectators.
Location:

March 24-26, 2022

2022 Gone Farmin' Spring Classic

Bend XPO

Auction
The daily ticket price is $15 per person. Children 12 and younger are admitted free of charge. The bidder registration fee is $50.

Gates open daily at 7 a.m.

Gates close one hour after the final vehicle of the day crosses the block.
Preview
Thursday, March 24 from 1-5 p.m.
Vintage Trucks
Friday, March 25 at approximately 2 p.m., immediately following tractors
For more information, visit Mecum.com or call (262) 275-5050.
---
Photo Credit: Mecum Auctions