Official range estimates are in for Kia's new all-electric 2022 EV6 crossover and they top the 300-mile mark. Kia says the U.S. Environmental Protection Agency (EPA) has certified a maximum all-electric range of 310-miles for certain models. Kia is sharing the certifications for the entire lineup ahead of the EV6's on sale date in the first quarter of this year.
Range
The 310-mile range certification applies specifically to the EV6 when equipped with a 77.4 kWh battery and rear-wheel drive. This includes the EV6 GT-Line RWD and EV6 EX+ RWD. Kia says this rating represents an impressive overall efficiency of 4.0 miles/kWh.
The EV6 is also available with a smaller battery and all-wheel drive, both of which drop range. Kia says EV6 models equipped with all-wheel drive are EPA-certified at 274 miles, and the 58.0-kWh EV6 EX is rated at 232 miles.
More range information is available at Fueleconomy.gov.
Charging
The EV6 can be charged quickly using a patented multi-charging system that supports both 400v and 800v DC charging, which Kia says works on DC chargers with speeds ranging from 50kW to 350kW.
"Offering EV6 customers over 300 miles of all-electric range per charge, combined with the ability to recharge quickly and efficiently, is foundational to the rollout of our Plan S Strategy that positions Kia as an EV leader," said Sean Yoon, president & CEO, Kia North America, Kia America.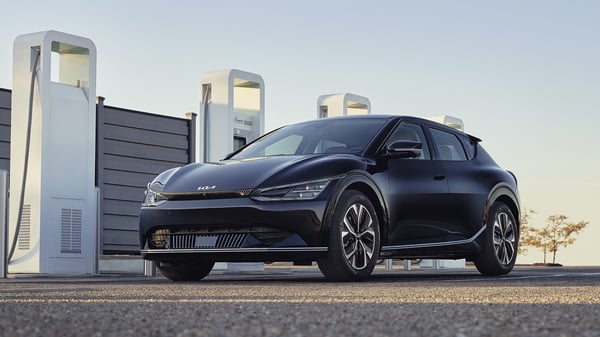 Credit: Kia.
Speaking of charging, the EV6 recently made GUINNESS WORLD RECORDS history, traveling 2,880.5 miles with the shortest charging time to cross the United States in an electric vehicle. The trek, in November, from New York City to Los Angeles took seven days, during which the Kia EV6 only needed to be plugged-in for 7 hours 10 minutes and 1 second. Kia says that beat the previous record holder, Tesla, by more than five and a half hours (12 hours, 48 minutes, and 19 seconds).
Availability
Kia says the first EV6 (EX, EX+ and GT-Line) models are expected to go on sale in early 2022 in all 50 states.
---
Photo Credit: Kia