Some good news at the pump to report this week. While gas prices are still at record highs, you've probably noticed we're not seeing a daily surge in prices like we did last week. The American Automobile Association reports that prices have stabilized for now due to the falling price of crude oil. In fact, prices have been dropping slightly this week, and Friday's national average is $4.27 a gallon. Earlier this week, AAA reported that after cresting above $123 per barrel shortly after Russia's invasion of Ukraine, the price of crude oil has gradually fallen below $110. The question is how long we can expect this trend to continue.
"It bears reminding that the cost of oil accounts for about 50% of what drivers pay at the pump," said Andrew Gross, AAA spokesperson. "This war is roiling an already tight global oil market and making it hard to determine if we are near a peak for pump prices, or if they keep grinding higher. It all depends on the direction of oil prices."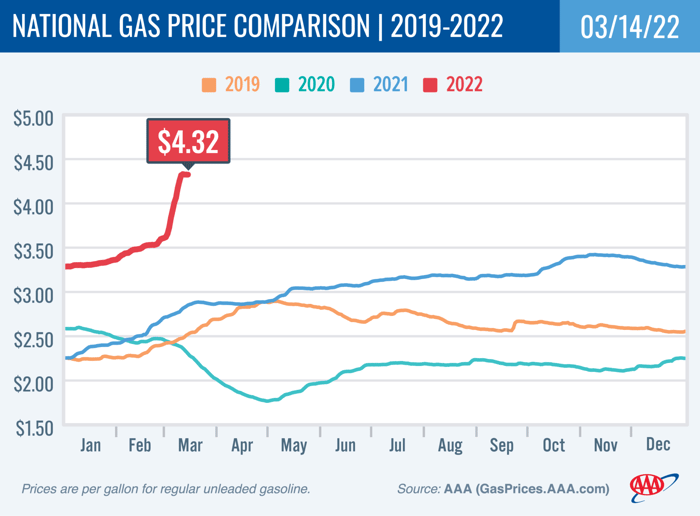 You can check AAA's daily gas prices here.
Drivers Say They'll Make Lifestyle Changes Due To High Gas Prices
With gas prices the highest in U.S. history, surpassing the previous record set in 2008, many Americans are trying to figure out how to save money at the pump. The results of an AAA study published earlier this month found that 59% drivers would make lifestyle changes if the national average rose past $4.
The AAa survey found that 80% of drivers said they'd drive less if the price hit $4, with younger drivers more opt to carpool and those over 35 more likely to reduce some activities:
The study found that 18 to 34 year-olds are almost three times as likely as those 35 and over to consider carpooling (29% vs 11%), which would likely involve major changes to their daily travel plans.
Those 35 and over are more likely to favor combining tips and errands (68% vs 52%) and to reduce shopping or dining out (53% vs. 43%).
The focus for most is on making daily lifestyle changes to offset costs. AAA says it doesn't see as much of an impact on summer travel. Researchers say out of 52% of Americans that have plans to take a vacation this summer, 42% said they would not consider changing their travel plans regardless of the price of gas.
Tips: Saving Money At The Pump
So how can you save money at the pump? AAA provides these tips:
Maintain Your Tires
Keep your vehicle in top shape with routine inspections and in between, make sure your tires are properly inflated. Underinflated tires are a drag on fuel economy.
Map Out Your Trip
Map your route before you go to minimize unnecessary turnarounds and backtracking. Avoid peak traffic times and if possible go to "one-stop shops" where you can do multiple tasks (banking, shopping, etc.).
Don't Drive As Fast
Fuel economy peaks at around 50 mph on most cars, then drops off as speeds increase. Reducing highway speeds by 5 to 10 mph can increase fuel economy by as much as 14%.
Don't Leave Your Car Idling
A car engine consumes one quarter to one-half gallon of fuel per hour when idling, but a warm engine only takes around 10 seconds worth of fuel to restart. Where safe to do so, shut off your engine if you will be stopped for more than a minute.
Use Express Lanes
Use "fast pass" or "express" toll lanes to avoid unnecessary stops or slowdowns on the highway.
More Tips From Jerry The Car Pro
Car Pro Show host Jerry Reynolds offers some additional tips:
Don't Use Premium Fuel If It's Not Needed
Most people don't really need to pay for premium fuel even if it says required. Car Pro Show host Jerry Reynolds explains why here.
Unload Your Car
If you're using your trunk to carry around heavy items, unload those to reduce the weight which will help your fuel economy.
Fix Check Engine Lights
If your check engine light is on, get it fixed. Some of the reasons it's on can adversely impact your fuel economy.
---
This posted was updated with new information on March 18, 2022.