You've heard CarProUSA Radio Show host Jerry Reynolds talk about the current market prices of new and used vehicles. They're both high right now due to a microchip shortage impacting new vehicle inventory. Reynolds, who monitors used vehicle auctions weekly, says used vehicles prices are on their way up again, after dipping slightly for a few weeks. But they aren't dropping for new vehicles. In fact, according to a new Kelley Blue Book analysis, new vehicle prices in June hit an all-time high.
In a press release, KBB data shows that the estimate average new vehicle transaction price (ATP) in June was $42,258, a price increase of $2,527 (up 6.4%) from June 2020 and up nearly a $1,000 ($928) ,or 2.2%, from May 2021.
"Despite unprecedented low incentives and inventory levels in June, last month showcased more historically high average transaction prices, reaching an all-new record," said Kayla Reynolds, industry intelligence analyst at Cox Automotive. "New-vehicle affordability continues to decline as the income required to purchase the average new vehicle continues to climb. In June, for the first time in a decade, vehicle buyers were essentially paying sticker price – the manufacturer's suggested retail price – for new vehicles."
According to Kelley Blue Book, the record-high ATP of $42,258 in June was 99.9% of the average MSRP of $42,290. For comparison, in January of this year, ATP was 95.9% of MSRP; one year ago, it was 95.4%. You can see the Kelley Blue Book data in the table below: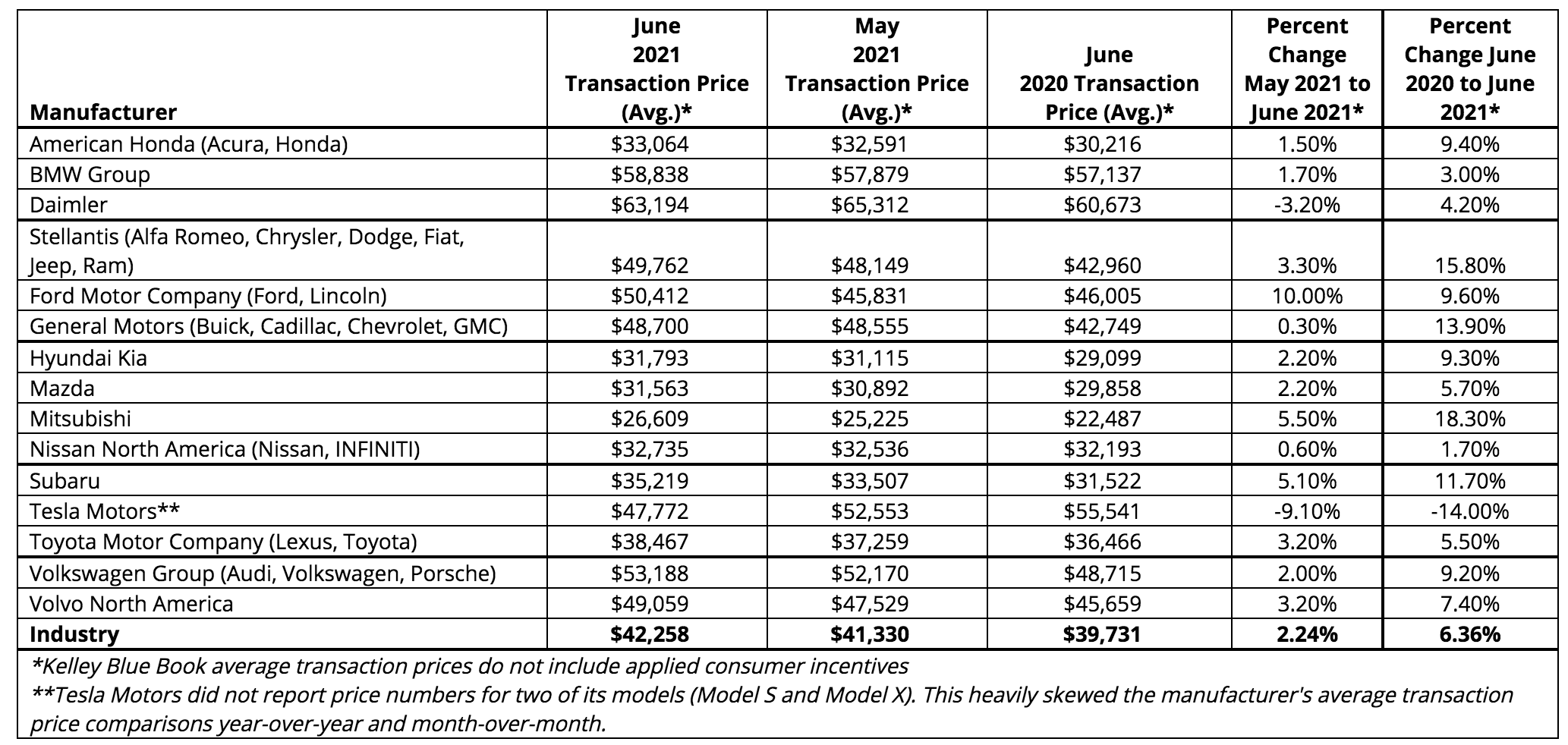 Source: KBB Press Release
KBB found that with the exception of Tesla, the average transaction prices for every vehicle manufacturer went up year-to-year in June. The automakers with the biggest year-to-year price increases were Mitsubishi (+18.3%), Stellantis (+15.8), and General Motors (13.90%). KBB says the Jeep Wrangler and RAM Pickup, two of Stellantis' best-selling models, saw double-digit increases compared to June 2020.
The current new vehicle market isn't stopping car shoppers from buying. Even with inventory concerns, KBB says the RAM Pickup outsold many of its counterparts last month with a 13.8% price increase from last year.
What segment you're buying in matters, too. Non-luxury models continue to make significant gains compared to luxury models, up 7% versus 2.9% respectively. Researchers say the availability and price increase of the mid-size and full-size car categories attributed to the non-luxury segment's growth in average transaction prices.
Take the Honda Accord for example. KBB reports that the Accord saw its average transaction price increase substantially above the industry and segment average at 14%. Yet sales still increased 35% compared to June 2020.
You can check out KBB's year-to-year segment breakdown in the table below.
Source: KBB Press Release
---