If you are used to buying a new vehicle just after Christmas, trust me, you need to start now or you won't be successful.
It's no secret that vehicles are short in supply. To further complicate things, many of the in-transit vehicles are spoken for. That is why you need to start now, versus waiting. If you want to take advantage of Tax Code 179, or just want to take advantage of December incentives, it is last call. If you can find a vehicle coming into one of our dealers that already has a VIN assigned, do your paperwork by December 31st to qualify for Tax Code 179.
Communicate with one of our dealers. Tell them what you want, try to be flexible if possible, and let them do what they do best: make you happy.
Beware The Bait and Switch Online Prices!
It is worse this time of year than any other time. Dealers putting unrealistic pricing is rampant right now. They only have one vehicle at that price and guess what? It sold this morning. They use all sorts of rebates you won't qualify for, but you're already three hours into the deal before you find out. Some will keep you hostage only to tell you later that it is "plus add-ons" or the price didn't include transportation charges.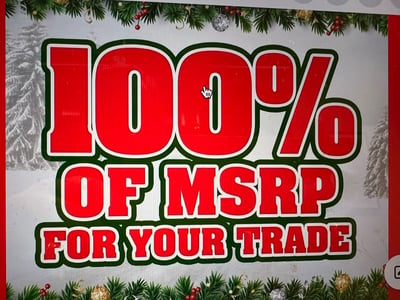 Stick with my Certified Dealers to avoid this waste of time nonsense.
Here are some tips to help you make the process quicker and easier:
First, be sure to start the process by emailing our dealers as prescribed below. Tell the dealer when you are going to visit them, and what you are looking for. It is a good idea to spend some time on the dealership's website and if you find your dream car, include the stock number or VIN number.

If you have a bank or credit union, find out the best interest rate you can get. If the dealer can match or beat that rate, you can get everything done at one time, in one visit.

If you have frozen your credit files, unfreeze them in advance if you are going to finance.

If you have a trade-in, go through the vehicle and remove all personal items. Try to have it clean and the tires dressed. Leave all service records in a folder on the front seat.

If there is money owed on your trade-in, call and get a 10-day payoff from your lender. If your trade-in is paid off, take the title with you and both sets of keys. Take your current insurance card and driver license.

The CarProUSA Way
Using our system is easy, but MAKE NO MISTAKE, THIS IS A PROCESS and it needs to be followed to reap the rewards of it, and this is true more now than ever.
You can connect with a Certified CarPro at one of our CarProUSA Dealerships directly from our website. Just enter the vehicle make, your zip code and driving distance parameter, and you'll see the closest dealerships to your area.
Email that dealer from our website, and you'll get a Car Pro VIP Certificate right back in your email. (Be sure to enter your correct email address to get the certificate.) You are welcome to email as many dealers as you wish from our list. Here is a link to all our dealers coast-to-coast:
A car for most people is the second largest purchase you will ever make. It is always a good idea to "know someone" in the business. The sheer volume of business I send our dealers gives you a HUGE advantage and best of all it is FREE!
---
Editor's note: This post was updated on 12/20/21.
Photo Credit:
Forewer
/Shutterstock.com