Chrysler plans to launch it's first all-electric vehicle by 2025, and go all-electric by 2028. This, according to the brand's announcement during CES 2022. It's also where the automaker debuted its Chrysler Airflow Concept - a sleek and stylish all-electric SUV designed with sustainability, connectivity and personalization in mind. Chrysler says the Airflow Concept gives a glimpse at the leading-edge drive-system technology, fully connected customer experiences and advanced mobility features, which will fuel the Chrysler brand's future.
"The Chrysler Airflow Concept represents the future direction of the Chrysler brand, providing a peek at the dynamic design, advanced technologies and seamless connectivity that will characterize the full-electric portfolio we plan to reach by 2028," said Chris Feuell, Chrysler brand CEO - Stellantis. "Chrysler is an iconic American automotive brand, with a heritage in creating new advanced technologies and product segments. Our brand will serve at the forefront as Stellantis transforms to deliver clean mobility and connected customer experiences."
Design
The Airflow concept is awash in Arctic White and features a two-tone roof line. A long wheelbase and wide track, along with large 22-inch wheels and tires, are enhanced visually with Celestial Blue accent color cladding. Up front, a cross-car grille/light blade is illuminated with crystal LED lighting. In the back, a crystal LED taillight runs the full width of the vehicle, to accentuate its wide stance. The Airflow Concept features welcome, departure and animated lighting, including a unique aqua color that shows the vehicle is charging. The diffuser shape of the lower rear fascia highlights the aerodynamic, smooth underbody, a key to achieving optimum driving range.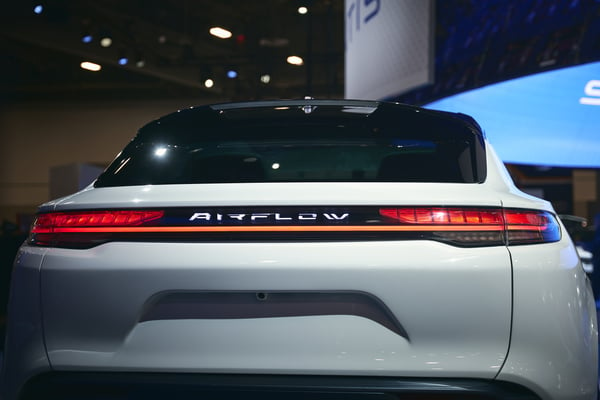 The open, lounge-like interior is designed to be modern, spacious, serene and calming. It's accented by a light and calming color palette with a design meant to sooth and relax occupants with soft leather-wrapped seats. Seating uses a unique slim structure that rests on a pedestal base to enhancing comfort and roominess. The cabin is also designed with sustainable materials that include vegetable-tanned leather, as well as floor mats, fabric and carpeting made of recycled materials. Infotainment screens seamlessly integrate technology within the overall interior composition. Cabin lighting helps the driver and passengers create a personalized inner sanctum syncs to the mood of the interior and changes based on the passengers' preferences and the content on the displays.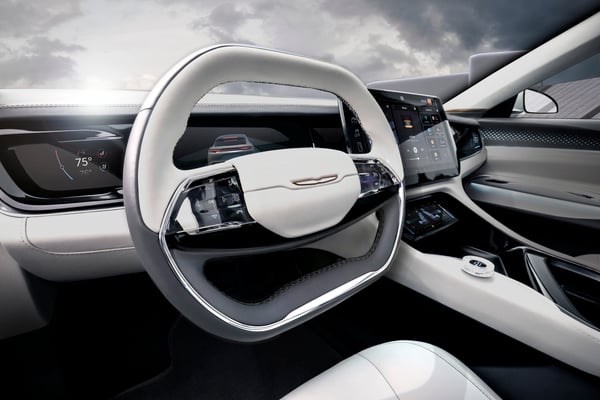 "The Chrysler Airflow Concept represents the start of the brand's journey toward a fully electrified future. It is the result of a thoughtful synthesis of the full arsenal of Stellantis' connected vehicle technology – inside and out," said Ralph Gilles, chief design officer - Stellantis. "The design features a decisively elegant aerodynamic exterior and a modern, sophisticated interior that takes the customer on a new level of digital delight."

Connectivity and Personalization

Connectivity and personalization are two key themes of the Chrysler Airflow concept.
Technology in the cabin showcases personalization for every passengers and ways to connect with their digital lives, and other passengers. Advanced technologies involve systems that communicate through advanced visualization and thoughtful interaction. Multi-layered, high-contrast graphics provide a clean, sophisticated appearance that is safe, easy to use and easy to understand.
Menu-based screens throughout the interior can be personalized, simplified and grouped based on individuals and interests. Information on the screens can be shared with all passengers by swiping. Each screen can be personalized space with connected entertainment, apps and downloads. There are also built-in cameras in each seat so occupants to participate in a group video conference calls from the comfort of the cabin.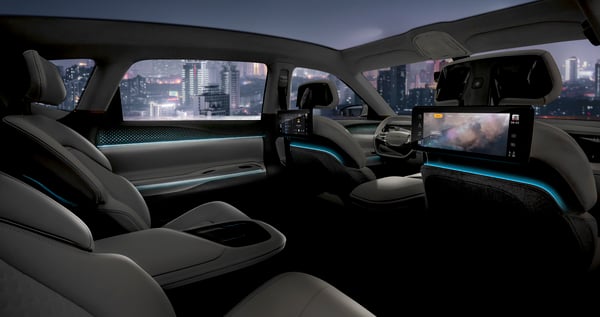 Chrysler says its Airflow Concept reinvents the customer experience by integrating the new electrical/electronic (E/E) and software architecture, STLA Brain. Chrysler says the STLA Brain platform and STLA SmartCockpit deliver seamless connectivity to transform the experience for everyone in the vehicle. A connected hub brings a consumer's digital lifestyle into the vehicle, using advanced technology to create a customized space for each occupant. It also enables over the air updates. The STLA SmartCockpit delivers AI-based applications, such as navigation, voice assistance, e-commerce marketplace and payment services.

Fully Electrified + Fully Connected

Chrysler says the Airflow Concept previews the brand's commitment to delivering a fully electric vehicle lineup by 2028, produced using clean manufacturing processes and made with recyclable and renewable materials. STLA AutoDrive delivers Level 3 autonomous driving capabilities.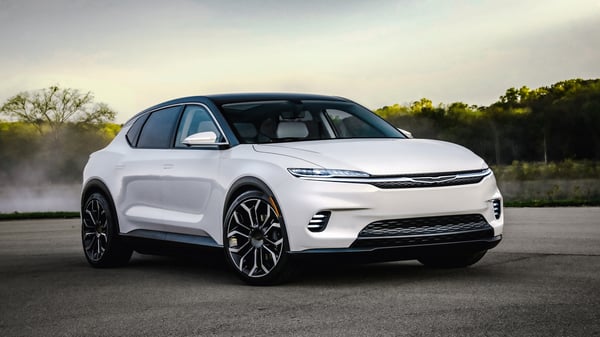 The concept features all-wheel-drive capability and is powered by two 150 kW electric drive motors (EDMs), one in the front and one in the rear, maximizing interior space. The battery is designed to achieve between a 350- and 400-mile range on a single charge.

Photos Credit: Stellantis