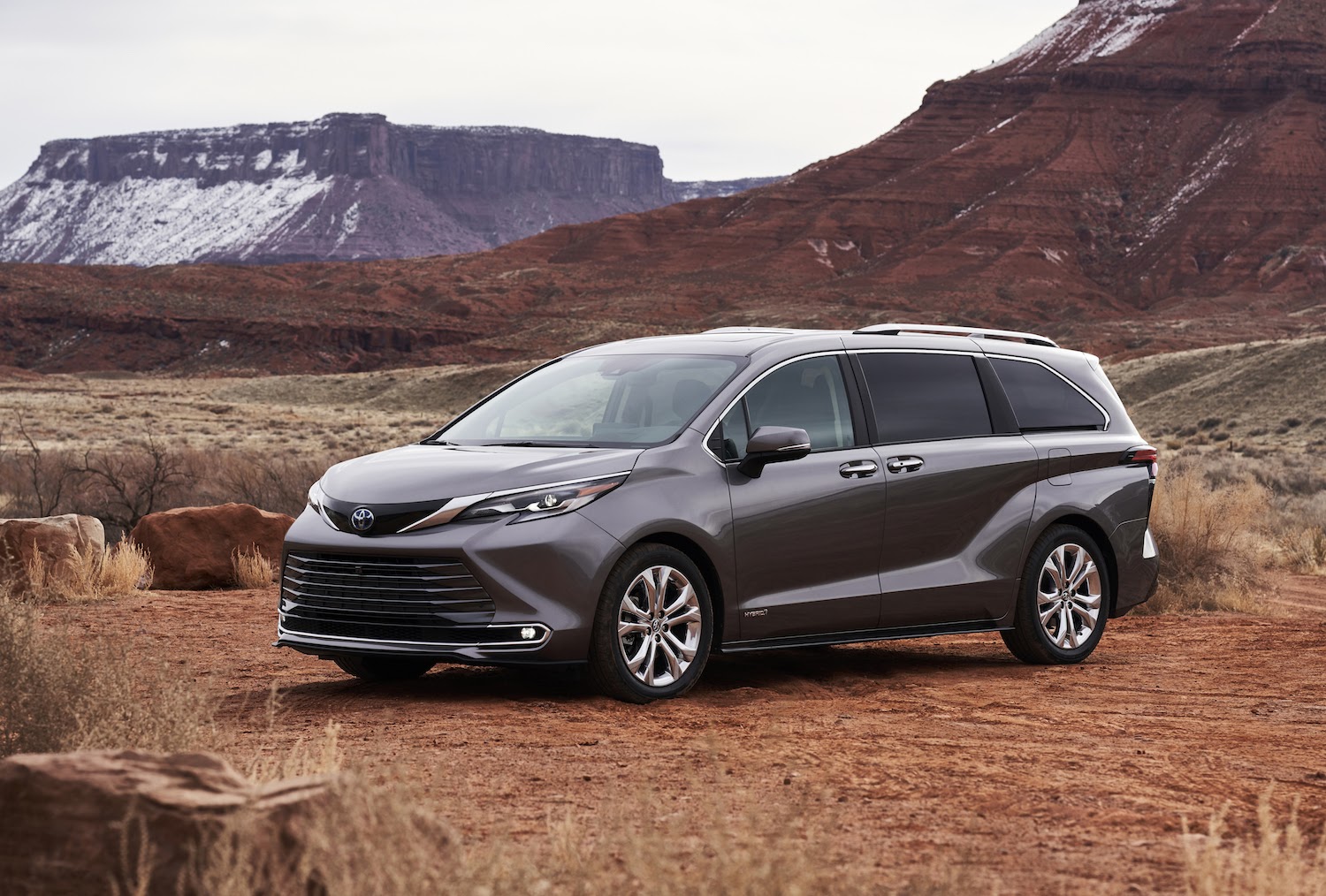 Toyota has sold 26,578 Siennas year-to-date, up from 11,876 in Q1 of 2020. The all-new 2021 Sienna went on sale last fall. Credit: Toyota.
We finally got the first quarter 2021 sales numbers, with all automakers except Jaguar Land Rover reporting as of today. Not sure why they can't get it together like the rest, but it is what it is.
These numbers will look skewed when compared to first quarter of 2020, as Covid-19 took over the auto industry in early March 2020. Assembly plants closed, dealerships were closed or severely limited. The public was scared and unsure how safe it was to go car shopping. All this wreaked havoc on March 2020 sales.
This March was a different story. Pent-up demand got people out as America started to reopen. Although there were spot shortages in new vehicles, the incentives were strong and the used car market went sky-high, making it easier for people to trade.
Of significance, for the first time in a long time, Toyota was the sales leader for Q1, edging out Ford by a pretty good margin. This will be interesting to watch for the balance of the year.
I've got the first quarter 2021 numbers for you, by automaker, and how they fared versus a year ago, but again, no conclusions can be drawn by that comparison.
| | | |
| --- | --- | --- |
| Toyota | 528,813 | Up 22% |
| Ford | 492,301 | Up 1% |
| Chevy | 425,106 | Down 2% |
| Honda | 309,203 | Up 14% |
| Nissan | 266,482 | Up 15% |
| Jeep | 197,545 | Up 8% |
| Hyundai | 175,352 | Up 30% |
| Ram | 162,920 | Up 16% |
| Subaru | 160,426 | Up 23% |
| Kia | 159,550 | Up 16% |
| GMC | 131,239 | Up 10% |
| VW | 90,853 | Up 21% |
| Mazda | 83,258 | Up 23% |
| Mercedes-Benz | 78,256 | Up 15.5% |
| Lexus | 74,253 | Up 32% |
| BMW | 71,433 | Up 20% |
| Dodge | 63,988 | Down 28% |
| Audi | 54,840 | Up 33% |
| Buick | 45,783 | Up 35% |
| Chrysler | 39,737 | Up 32% |
| Acura | 37,888 | Up 33% |
| Cadillac | 37,277 | Up 23% |
| Mitsubishi | 28,231 | Down 21% |
| Volvo | 27,239 | Up 40% |
| Lincoln | 25,410 | Down 1% |
| Infiniti | 19,071 | Down 25% |
| Porsche | 17,368 | Up 45% |
| Genesis | 8,222 | Up 107% |
| Mini | 6,285 | Up 20% |
| Alfa Romeo | 4,646 | Up 25% |
| Maserati | 1,570 | Up 3% |
| Fiat | 815 | Down 28% |
| Bentley | 660 | Down 7% |
| Lamborghini | 640 | Up 13% |
| Rolls-Royce | 330 | Up 5% |
| McLaren | 300 | Down 17% |