Ford is going back to the past to create a vision of the future. It's developed an all-electric F-100 Eluminator concept pickup to showcase the future of custom EV vehicles. The pickup is powered by an all-new Ford Performance Parts Eluminator electric crate motor that customers can now buy online.
F-100 Eluminator Concept
The F-100 Eluminator concept, that debuted during SEMA, is based on a heritage 1978 F-100 pickup. It features all-wheel drive via two powerful electric motors shared with the 2021 Mustang Mach-E GT Performance Edition. Two electric traction motors drive the front and rear wheels, packing a powerful 480-horsepower and 634 lb.-ft. of torque. Eluminator, the first e-crate motor from Ford Performance Parts, is based on the Mustang Mach-E GT's traction motor.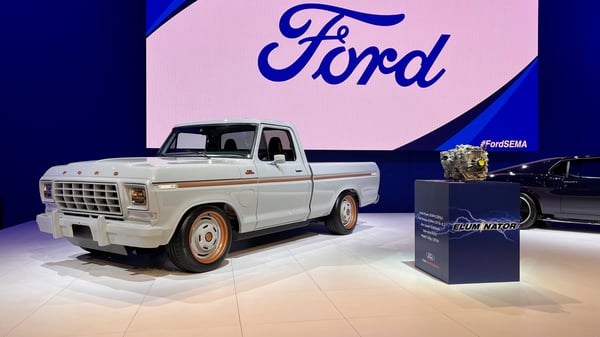 Photo Credit: NewspressUSA.
"Ford owners have personalized, customized and enhanced their vehicles since the beginning – from changing looks to bringing the power," said Eric Cin, global director, Vehicle Personalization, Accessories and Licensing. "Our F-100 Eluminator concept is a preview of how we're supporting customers as they go all-electric and embrace zero-tailpipe emissions performance, even for our heritage vehicles."
The concept pickup designed and created by Ford Performance, was built in collaboration with MLe Racecars and sits on a custom chassis by the Roadster Shop. It's painted in Avalanche Gray with Cerakote Copper accents applied by Brand X Customs, while the interior features a billet aluminum dash by JJR Fabrication and avocado-tanned leather upholstery by MDM Upholstery. It's fitted with custom 19x10-inch billet aluminum three-piece wheels by Forgeline wrapped in Michelin Latitude Sport 275/45-19 high-performance tires.
Eluminator e-crate motor
Noting the $50 billion generated globally by the vehicle performance parts and accessories industry each year, Ford says its Vehicle Personalization and Ford Performance Parts continue to add new choices for customers. The Eluminator e-crate motor is the first of what will become a growing portfolio of performance parts and accessories for Ford electric vehicles.
Part No. M-9000-MACH-E, the e-crate motor is now available at authorized Ford parts warehouse dealers or online at Ford Performance Parts. Retailing at $3,900, it is targeted for builders looking for a transverse-oriented powertrain to electrify a range of vehicles from modern to vintage cars, trucks and SUVs. Each Eluminator e-crate motor produces 281-horsepower and 317 lb.-ft. of torque and is street-legal in all 50 states.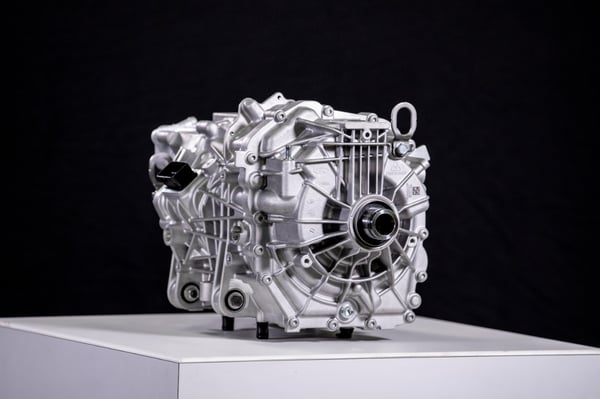 Photo Credit: Ford.
Ford says we can expect an expanding list of components for the Eluminator powertrain in the future, with some of the leading performance manufacturers, including battery systems, controllers and traction inverters to close the loop on full turnkey aftermarket electrification solutions.
Ford EV Display
Other electric-powered vehicles Ford displayed at SEMA included a 1,400-horsepower electric Mustang Mach-E 1400 demo, 2022 F-150 Lightning and factory Mustang Mach-E GT Performance Edition. Three custom Mustang Mach-E creations include a prototype from Shelby American. Jim Osborn, former pro SCCA racer and founder of the Austin Hatcher Foundation, is preparing their custom Mustang Mach-E GT build to run at the Bonneville Speed Week next summer with the goal of being the first Mustang Mach-E to top the 200-mph mark.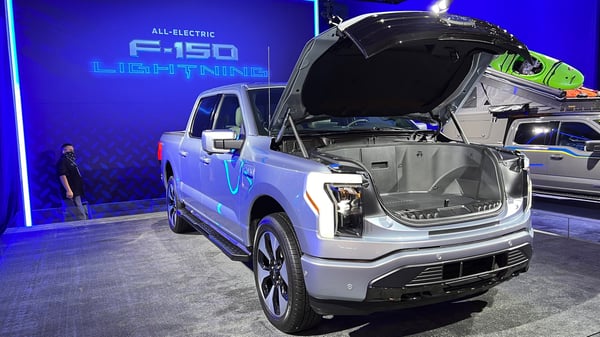 Ford Lightning. Photo Credit: NewspressUSA.
Ford's Mustang Cobra Jet 1400, an electric-powered exhibition dragster prepared by Ford Performance and MLe Racecars, also recently demonstrated its quickness at the NHRA Nationals in Las Vegas.
"The fact is, electric performance is fun, and as the industry moves toward electric vehicles, motorsports and the performance aftermarket will too," said Mark Rushbrook, global director of Ford Performance. "Just as Ford is committed to leading the electric revolution on the product side, Ford Performance is equally committed to winning on the performance and motorsports front."
Ford notes that all of the vehicles shown have been modified by independent vehicle modifiers for SEMA. They are for demonstration purposes only and aren't available for sale by Ford. Ford's display of these vehicles is not intended to, nor does it constitute an endorsement of the vehicle modifiers, vehicle modifications, or use of the vehicles by Ford. Ford has not evaluated these modified vehicles. Vehicle owners and modifiers should consult their Ford's owner's manual before modifying vehicles and for proper usage. Vehicles that are not street legal or certified under FMVSS and safety and emission regulations are not intended or certified for use on public roads.
---
Photo Credit: NewspressUSA.