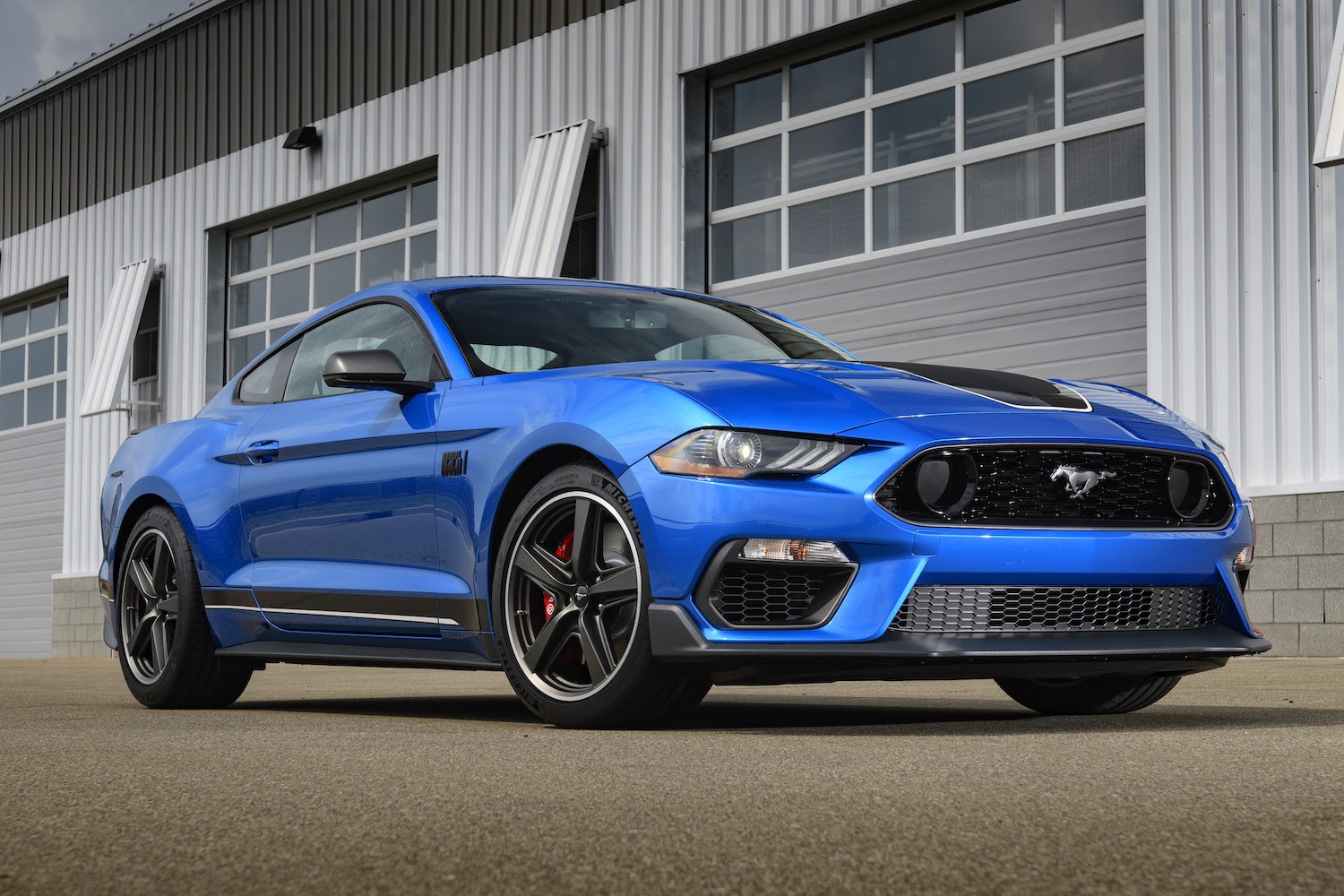 2021 Ford Mustang Mach 1. Credit: Ford.
The Ford Mustang, which celebrated its 57th birthday on April 17th, is the best-selling sports car in the world for the second year in a row. Ford says the Mustang dominated the global market again in 2020 -- and also retains its title of best-selling sports coupe for the 6th straight year.
Notably, Ford says the Mustang's domination of the sports car market was led by a surge in sales in high-performance vehicles. Namely, the Bullitt, Shelby GT350, Shelby GT350R and Shelby GT500 models. Ford says the Mustang led all competitors with 80,577 global sales in 2020, according to the most recent vehicle registration data from IHS Markit. That sales total represents 15.1 percent of the sports coupe market, up from 14.8 percent a year earlier.
"Mustang enthusiasts love their performance cars, and they showed that yet again," said Hau Thai-Tang, chief product platform and operations officer, Ford Motor Company. "In a challenging year for the entire auto industry because of the global pandemic, Mustang performed very well, increasing its share in the global sports car segment."
Sales of the high-performance Bullitt and Shelby variants were up 52.7 percent in 2020 from a year earlier, according to the automaker's internal data. Ford says it looks to continue its success with limited-edition models with the new 2021 Mustang Mach 1 entering the lineup.
About three quarters of total Mustang sales are in the U.S. with Texas (8,600 vehicles), California (6,200 vehicles) and Florida (5,864 vehicles) the top three U.S. markets.
Sales were also up in various European markets. According to Ford internal data, 2020 sales in Hungary were up 68.8 percent over 2019; sales in the Netherlands (38.5 percent), Denmark (12.5 percent), the Czech Republic (5.6 percent) and Austria (4 percent) all increased.
All-electric Mach-E SUV
We can't forget about the new Mustang Mach-E that recently joined the Pony car lineup. Ford says the all-electric SUV exceeded sales expectations in both February and March on its way to opening 2021 with strong first-quarter retail sales totaling 6,614. In late March, Mustang Mach-E units spent an average of only seven days on dealer lots.
Ford also says the Mustang Mach-E customers, nearly 70 percent of whom are trading in their keys of competitive brands, lean toward premium Mach-E models. The Mustang Mach-E 4X all-wheel-drive-equipped models are outselling rear-wheel-drive units, while vehicles with extended-range batteries are more popular and are capable of up to an EPA estimated 305 miles (on a full charge) with rear-wheel-drive.
CarProUSA Radio Show Host Jerry Reynolds recently reviewed the Mach-E and you can check out his review and video below.