Rental car company Hertz is going all-in on electric vehicles - or wants to anyway. According to a November 4th article in the Wall Street Journal, Hertz is currently negotiating with Tesla on the delivery time of 100,000 Teslas.
The report comes after Hertz announced in October that it had placed an initial order of 100,000 Teslas by the end of 2022, but then earlier this week, Elon Musk tweeted no contact had been signed yet.
You're welcome!

If any of this is based on Hertz, I'd like to emphasize that no contract has been signed yet.

Tesla has far more demand than production, therefore we will only sell cars to Hertz for the same margin as to consumers.

Hertz deal has zero effect on our economics.

— Elon Musk (@elonmusk) November 2, 2021
If Hertz's plans to take delivery of 100,000 Teslas materializes, the rental car company says EVs will comprise more than 20 percent of its global fleet. Hertz customers can already rent a Tesla Model 3. Here's what the Hertz website says:
"We now offer the largest electric vehicle (EV) rental fleet in North America. Our flagship EV is the Tesla Model 3, a luxurious 4-door sedan that features up to 260-mile driving range on a full charge and is the best-selling electric car in the world." - Hertz Website
"Electric vehicles are now mainstream, and we've only just begun to see rising global demand and interest," said Hertz interim CEO Mark Fields. "The new Hertz is going to lead the way as a mobility company, starting with the largest EV rental fleet in North America and a commitment to grow our EV fleet and provide the best rental and recharging experience for leisure and business customers around the world."
Hertz is also teaming up with Super Bowl champion and entrepreneur Tom Brady to get the word out. It's new "Hertz, Let's Go!" campaign is designed to showcase how it is "making EV rentals fast, seamless and more accessible". Brady appears in two new Hertz ads – "Plugged In" and "Speed" that show him renting, recharging and using an EV at a Hertz airport location.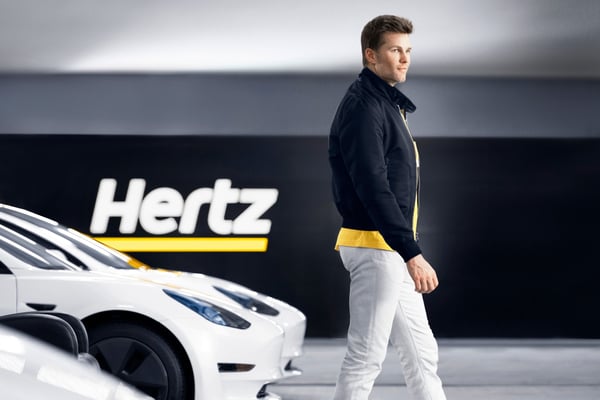 Credit: Hertz.
"Hertz is changing the game when it comes to the future of mobility and has come through for me time and time again," said Tom Brady. "Although the company has been around for over 100 years, their constant evolution, especially now, is something that is amazing to be a part of. I've been driving an EV for years and knowing Hertz is leading the way with their electric fleet speaks to how the world is changing and the way companies are approaching being environmentally and socially conscious. I've always loved how easy and convenient Hertz makes it for me when I'm traveling to my favorite places like New York, LA and Tampa and can't wait to see what they continue to have in store."
Hertz says it also plans to expand its charging network. The company says it plans to have a combination of Level 2 and DC fast charging in approximately 65 markets by the end of 2022, expanding to more than 100 markets by the end of 2023. Those plans could however be impacted by the microchip shortage.
---
Photo Credit: Hertz