One million and counting. That's how many electrified vehicles have been sold in the U.S. as of the end of the third quarter, according to a new Kelley Blue Book analysis. Electrified vehicles as a term encompasses all-electric, hybrids and plug-in hybrids.
Third Quarter EV Sales
The third quarter was certainly a strong one for the electrified segment. Despite a 13.4% overall decline in new vehicle sales year over year, something KBB attributes primarily to low inventory and high prices, electrified vehicle sales set an all-time high in the third quarter, accounting for 10.4% of total vehicle sales. In its press release, KBB says that's nearly double the volume of one year ago when electrified vehicle sales comprised only 5.5% of total sales in Q3 2020. KBB also reports that one in 10 vehicles sold in Q3 came equipped with a significant battery pack.
Check out our 2021 Guide to Electric Cars
"The exponential growth of electrified vehicle sales in the U.S. is a combined result of more product availability and wider consumer acceptance," said Matt DeLorenzo, senior managing editor for Kelley Blue Book. "We are seeing the investments in this technology beginning to pay off with greater growth in EV volume. This pace will continue to increase as consumers find more choices in both pure electric and plug-in hybrid vehicles. Even as the auto industry faces challenges in chip shortages, limited production and inventories, and higher prices, the growing demand for electric vehicles is a significant development."
In addition, KBB says consumers appear to be nearly equally as interested in electric vehicles as they are hybrids. Researchers found that year over year, sales of hybrids and plug-in hybrids increased 62.2% in Q3 2021, but EV sales growth wasn't far behind, up 51.3%.
Cox Automotive breaks down the numbers in the chart below: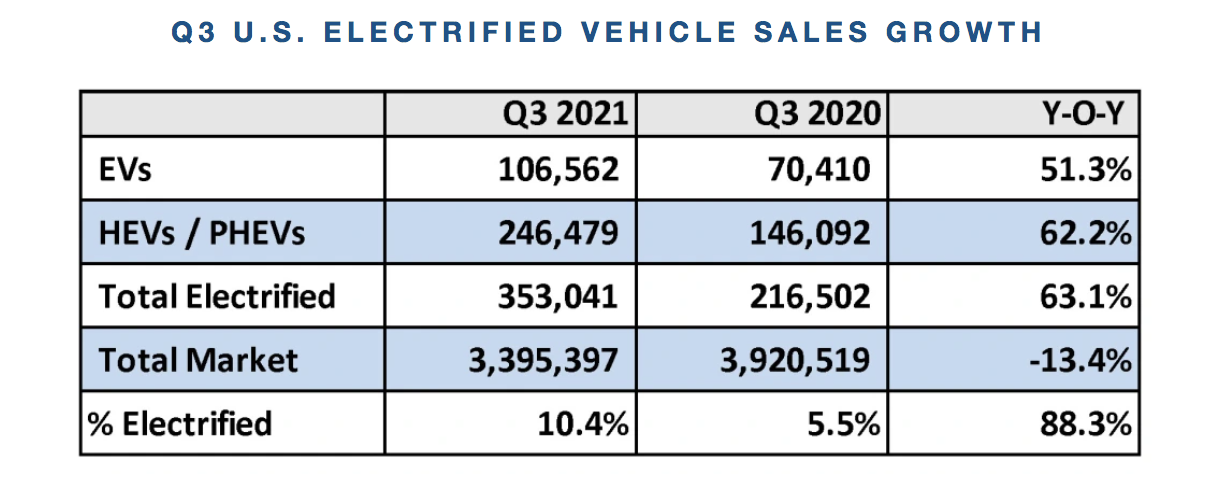 Source: Cox Automotive. Read the full report here.
Toyota and Tesla
KBB says while there are some new players in the electrified segment like the Mustang Mach-e and VW ID.4 that shouldn't be overlooked, Tesla and Toyota remain the big automotive players. Toyota as the dominates player in the hybrid powertrain market and Tesla the all-electric market leader with its Model 3 and Model Y.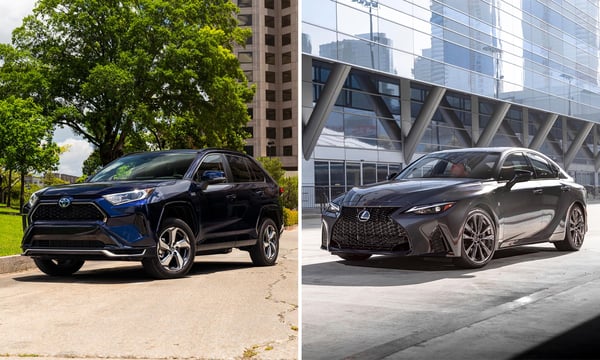 Credit: Toyota.
KBB says through the first nine months of the year, hybrid vehicles made up more than 24% of combined Toyota and Lexus sales. In addition, more than 60% of all hybrid-electric vehicles sold industry-wide in Q3 hailed from Toyota Motor Company, a position KBB cites as nearly as dominant as Tesla.
Tesla's total share of the EV market, meanwhile, jumped back above 70% in Q3 after falling to 64% in Q2. KBB cites the Tesla Model Y as the industry's best-selling EV, accounting for nearly 40% of total EV sales.
---
Source: KBB Press Release