Lexus is finally joining the PHEV party with the unveiling of its first-ever plug-in hybrid. It's in the form the all-new 2022 NX 450h+. The compact luxury crossover is the second electrified NX behind the NX300h hybrid. Two things to know off the top, the plug-in model offers more power than the hybrid-only NX variant and the NX 450h+ also offers the fastest 0 to 60 acceleration of any NX model in the lineup.
NX 450h+
The new 450h+ delivers 304-horsepower with its plug-in hybrid electric powertrain. That's a sizable jump over the 350h's 240's horsepower.
"The vision is to give Lexus guests a choice in powertrain," Blickenstaff says. "Different people have different needs. Now, we offer different powertrains to match."
Toyota says the 450h+ system - that combines a combustion engine and a battery-powered electric motor- achieves the electric vehicle output equivalent to a 2.0-liter turbo engine. It can operate on gasoline or battery power, so it doesn't have to be charged to run.
"It still has a gas tank, and you can drive very far, just like you can in a traditional car. A lot of people think that the main purchase reason for getting an electrified vehicle is the fuel economy," Blickenstaff says. "I think for the new NX 450h+, it might actually be performance."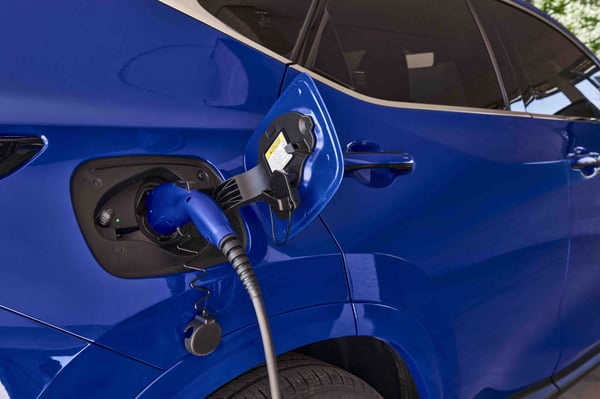 Credit: Lexus.
Range and Charging
The 450h+ offers a manufacturer EPA-estimated 37-mile all-electric range. Toyota says when the newly developed, high-capacity lithium-ion battery combines with the gas engine, the NX 450h+ achieves an impressive 84 MPGe as estimated by the EPA.
Toyota says the 450h+ can reach a full charge in approximately two and a half hours when equipped with the optional 6.6 kW Expedited Onboard Charger and plugged into a 220-volt outlet. For more about electric vehicle charging check out our 2021 EV Guide here.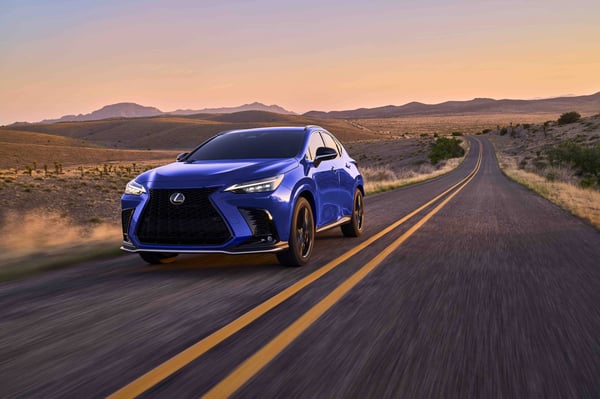 Credit: Lexus.
Lexus Hybrid Sales
Lexus says its seen sales of its hybrid electric vehicles steadily increase as more guests see the advantage of electrified vehicles. The RX 400h hybrid model — Lexus' first luxury electrified model — has sold more than 2 million vehicles since its 2006 debut.
Blickenstaff says "it's definitely a challenge" when educating the public about the full capabilities of hybrid and plug-in hybrid products.
Lexus says this new chapter also brings Lexus closer to its 2050 carbon neutrality target, an aim to cut carbon dioxide emission in the atmosphere.
Pricing
No official word on when the new PHEV model will hit the streets, but we do have NX MSRP pricing info to share:
$37,950 for NX 250 FWD

$39,550 for NX 250 AWD

$41,550 for NX 350 AWD

$41,050 for NX 350h AWD

$55,560 for NX 450h+ AWD
All prices listed are exclusive of $1,075 delivery, processing and handling fee.
---