Mazda is ready to get out of the city and into nature, so much so it's designed a new crossover to do just that. It's the first-ever CX-50 which is now rolling off the assembly line at Mazda Toyota Manufacturing (MTM) in Huntsville, Alabama. Developed specifically for the North American market, Mazda says the new CX-50 is designed to look more rugged, venture out into nature and carry outdoor gear. It even offers the automaker's first-ever panoramic moonroof. Mazda North American Operations President and CEO Jeff Guyton drove the first 20230 CX-50 off the line last week.
Credit: Mazda.
"This is an exciting day for both MTM team members and MNAO employees to celebrate the first CX-50 to roll off the Discovery Line at MTM," said Jeff Guyton. "The production of the CX-50 here signifies the importance of the North American market to Mazda and our commitment to investing in the U.S."
2023 Mazda CX-50
Mazda dubs the CX-50 a "rugged and capable" crossover SUV. Like its other vehicles, Mazda says the CX-50 offers superior driving dynamics and a beautiful design. But it is also designed to venture further into the outdoors and various terrains. To that end, it comes with standard i-Activ All-Wheel Drive (AWD) technology and new Mazda Intelligent Drive Select, or Mi-Drive. The new drive modes can be selected with the Mi-Drive switch which Mazda says will help the crossover SUV drive naturally in a wide variety of conditions, such as off-road terrain or providing reliable towing capabilities.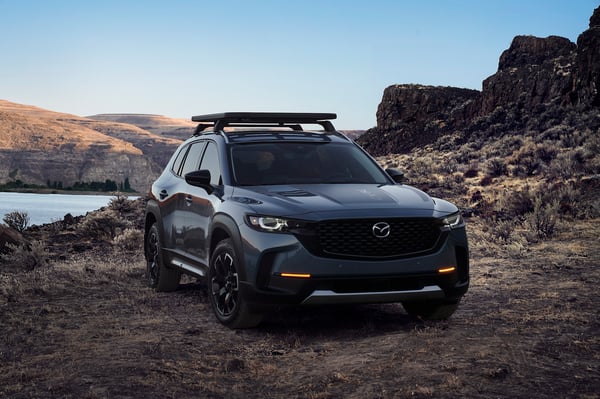 Credit: Mazda.
At launch, CX-50 will be available with two powertrains, a Skyactiv-G 2.5 naturally aspirated engine or a Skyactiv-G 2.5 Turbo engine and paired with a six-speed automatic transmission. Turbo models also include a mode designed to support towing. Mazda says it will launch a hybrid model in the "coming years." We'll have to stand by for more specific electrification news.
The CX-50 offers Mazda's first-ever panoramic moonroof, so occupants can feel more connected with nature. Mazda also says an elongated cargo floor and liftgate opening makes stowing gear easy. Up top, the roof rails have been designed to carry outdoor equipment like kayaks and tents.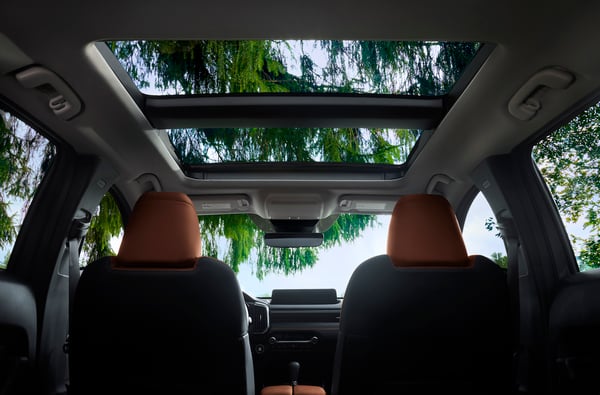 Credit: Mazda.
The CX-50 will also debut new color options, such as Zircon Sand exterior paint and an available terracotta interior color.
Mazda says the CX-50 will be available this spring.
About MTM
The Mazda Toyota Manufacturing (MTM) is a $2.3 billion joint venture partnership between Mazda Motor Corporation and Toyota Motor Corporation. Operations kicked off last September. The plant is slated to produce 300,000 vehicles annually - half of those Mazda and the other half Toyota. The plant will employ up to 4,000 workers and several thousand workers are expected to be employed by suppliers.
---
Photo Credit: Mazda