Genesis' new SUV lineup continues to turn heads and rack up awards and accolades. The latest one going to the new Genesis GV70 which was recently named MotorTrend's 2022 SUV of the Year, receiving a coveted Golden Caliper award.
The GV70 bested nearly three dozen other SUVs up for the award. Other finalists included the Ford Bronco and Bronco Sport, the Ford Mustang Mach-E, Jeep Grand Cherokee L, Jeep Grand Wagoneer and Wrangler 4xe and 392, Kia Sorento and 2022 VW ID.4
In its press release, MotorTrend says the GV70 stood out from the pack for a number of reasons: its strong value proposition, "stellar" driving experience, "engaging" design, and an expansive package of standard features. You can check out those features in our review of the GV70 3.5T Sport Prestige model here.
"We're thrilled to honor the Genesis GV70 with our SUV of the Year award," said MotorTrend Group Head of Editorial, Ed Loh. "The GV70 astounds in the way it achieves all-around excellence thanks to its fresh design, ample power, comfortable ride quality, and impressive feature set; MotorTrend's 2022 SUV of the Year hits all the right notes, and does it all at an unbelievable price."
MotorTrend picked the Genesis GV70 from a field of 35 total all-new or significantly redesigned SUVs. MotorTrend says the GV70 excelled in the award's six key criteria: safety, efficiency, value, advancement in design, engineering excellence, and performance of intended function.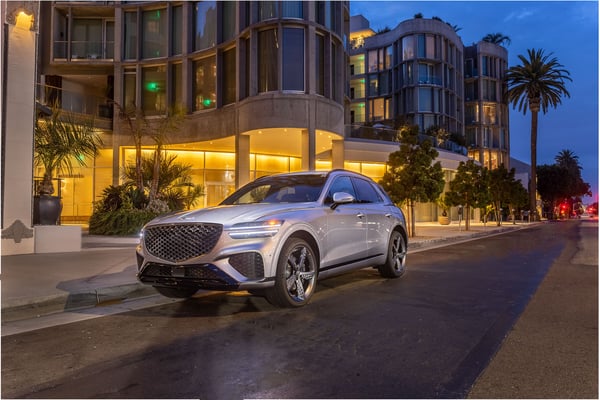 2022 Genesis GV70. Credit: Genesis.
"We are humbled that customers and industry experts have recognized GV70's distinct character and our commitment to excellence," said Claudia Marquez, Chief Operating Officer of Genesis Motor America. "With its bold design and suite of technology and safety features, GV70 delivers unrivaled comfort without sacrificing a dynamic driving experience."
MotorTrend calls the GV70's design "unconventional and fresh, with an exterior style that manages to deliver a distinctive and rich impression."
"The design brings its own kind of luxury to the equation," MotorTrend Mexico editor Miguel Cortina said. "Genesis isn't trying to copy Europe or America or Japan—the GV70 does its own thing."
MotorTrend was equally impressed with the interior that features a standard 14.5-inch touchscreen. It notes the GV70 offers more rear-seat space than some competitors due to carved out front seat backs that create more knee room. Its 28.9 cubic feet of usable space behind the rear seats is also more than almost every vehicle in the segment.
MotorTrend also calls the GV70's value proposition "compelling" as it comes well equipped with all-wheel drive, adaptive cruise control, lane centering, blind-spot monitoring, and the aforementioned 14.5-inch screen.
MotorTrend sums it up by saying "in a segment stuffed with intriguing options, the Genesis GV70, which melds scintillating dynamics with huge value and a level of practicality that's rare among luxury vehicles, is nothing short of a revelation—and as a result it is the only choice for the 2022 MotorTrend SUV of the Year honor."
If you have not seen Amy's review of the GV70 3.5T Sport Prestige, click here