Yes, I am reviewing the all-electric Ford Mustang Mach-E GT this week and it looks like New York City likes it as well.
The New York City Department of Citywide Administrative Services (DCAS) recently announced it is placing an order for 184 all-electric Ford Mustang Mach-E Sport Crossover Utility Vehicles. They are for law enforcement and emergency response use.
The order will be the city's largest electric vehicle (EV) purchase to date and the vehicles are expected to be received by the city by June 30, 2022. They're slated for use by the New York Police Department (NYPD), the New York City Sheriff's Office, the Department of Correction, the Department of Parks and Recreation, the Department of Environmental Protection, NYC Emergency Management, DCAS Police, and the Office of the Chief Medical Examiner. The city says the new electric vehicles will replace gas-powered vehicles currently in the City fleet.
"Smart investments in fleet electrification will help New York City break its dependence on fossil fuels," said Dawn M. Pinnock, Acting Commissioner of the NYC Department of Citywide Administrative Services.
The NYPD alone operates over 6,200 light duty enforcement vehicles, the largest single group of vehicles in the City fleet of nearly 30,000. This order will be the largest all-electric plug-in purchase for law enforcement and pave the way for a transition to all electric by 2035.
The all-electric Ford Mustang Mach-E GT models will have 270 miles per range and nearly 27 cubic feet of cargo space, suitable for storing critical emergency and law enforcement gear. To date, DCAS has installed 29 fast chargers for the NYPD, and 103 fast chargers citywide. DCAS is slated to begin work in 2022 to install 275 additional charging units.
Updates for 2022
There are several updates to the 2022 Mach-E lineup. The California Route 1 edition has an EPA estimated-range of 314 miles with an extended range battery and RWD. The 2022 Mustang Mach-E California Route 1 model is now available with electric all-wheel drive and has standard heated seats and steering wheel. A Mustang Mach-E Premium Ice White Edition Appearance Package is also now available for the 2022 model year.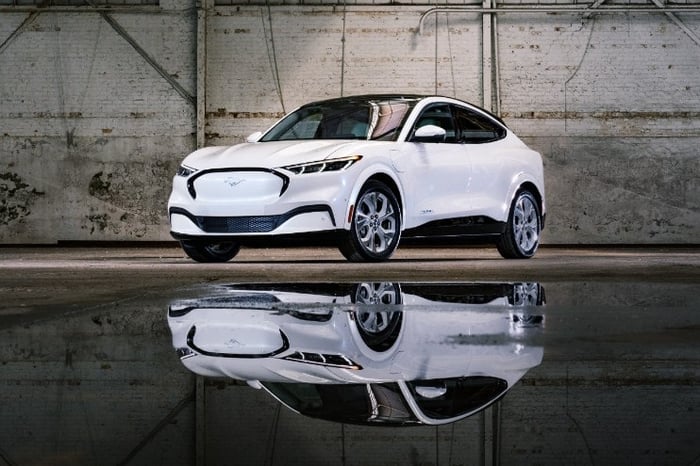 Other updates include a black painted roof which is now standard on Mustang Mach-E GT and GT Performance Edition. Grabber Blue Metallic and Cyber Orange Metallic Tri-Coat are now available on all models and Iced Blue Silver Metallic is new to the 2022 model year. Mustang Mach-E with standard range now has 70 kWh usable energy and available extended range now has 91 kWh usable energy.
The 2022 Mustang Mach-E is now available for order with a starting MSRP of $43,895.
---
Photo Credit: Ford.