If you know a high school student interested in automotive design, here is a cool opportunity to send their way. Stellantis' 10th annual Drive For Design competition is now underway. The competition is open to U.S. high school students in grades 10th-12th. There's not a lot of time to submit an entry. The contest opened March 22 and the deadline is May 13, 2022.
Each year there's a different challenge. Last year it was to design an electrified Jeep of the future within a 10-week timeframe. Here's the winning sketch for 2021's competition: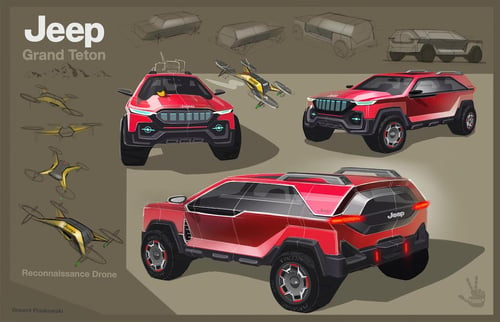 2021's winning sketch from returning contestant Vincent Piaskowski.
This time around the project is to sketch of a next-generation Chrysler product (vehicle) of the future. Electrified vehicles and mobility solutions are the key themes.
Something new for this year, Stellantis, formerly Fiat-Chrysler Automobiles, is inviting all top 10 winners to participate in a virtual networking session with Head of Ram Truck and Mopar Design Mark Trostle and professional Stellantis designers who have created some of the most iconic vehicles on the road today.
Ten years ago, Trostle revived a contest he won as a high school student. In the years since, Stellantis says he's worked with many students and their parents and helped steer students towards potential career paths in automotive design. Some previous winners have gone on to land jobs or internships within Stellantis' design studios.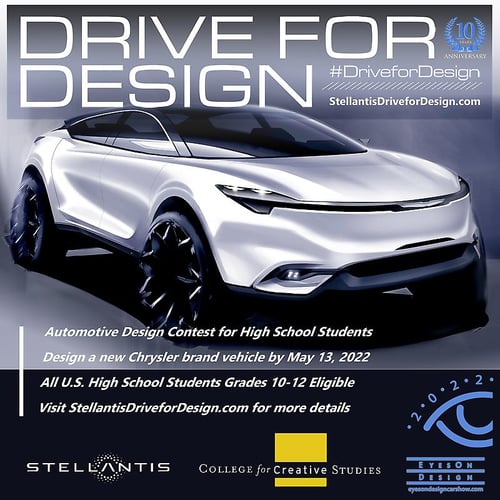 "Winning is not the main goal of this contest, it's about discovering career opportunities, helping young artists hone their craft and educating parents of young artists about a rewarding profession where they can use their artistic talent," said Trostle. "Regardless of where these students ultimately land after graduation, it's been rewarding to our team to be able to make a positive impact on someone's life and career."

Stellantis says three winning sketches will be selected and those artists will receive a virtual day of design with leading designers at Stellantis, Wacom and Apple. They'll also receive a scholarship to attend a four-week summer program at the College for Creative Studies (CCS) in Detroit.

Follow Stellantis North America social media channels to learn about careers in automotive design. You can also look for weekly updates every Tuesday and Thursday with the hashtag #DriveForDesign.

For detailed contest rules and information on how to submit sketches, visit www.StellantisDriveForDesign.com.

---
Photo Credit: Stellantis.