This week we take a look at some new data regarding wages and new vehicle prices. According to data from the Anderson Economic Group, increasing vehicle prices outpaced wage growth in 2021. AEG recently shared its analysis comparing new and used vehicle price increases to wage growth in the US private sector last year. Here's a look at the data from AEG's press release.
2021 Wages vs Vehicle Prices
The firm says its experts analyzed US Bureau of Labor Statistics data related to the Consumer Price Index (CPI) to compare the cost of new and used vehicles relative to average weekly earnings for private jobs. Among the findings, a notable increase in 2021's new car prices. The CPI for new vehicles jumped 11.8% in December 2021 over December 2020. The price of used vehicles increased even more profoundly, with a CPI growth of 37.3% for the same period.
Researchers say the increases are partly due to tight inventory amidst production issues and strong consumer demand. AEG consultant Sara Bowers points out that "It's been decades since used car prices increased this dramatically. The changes we've seen recently are remarkable."
The Price of New Vehicles Increased Faster than Average Weekly Earnings in 2021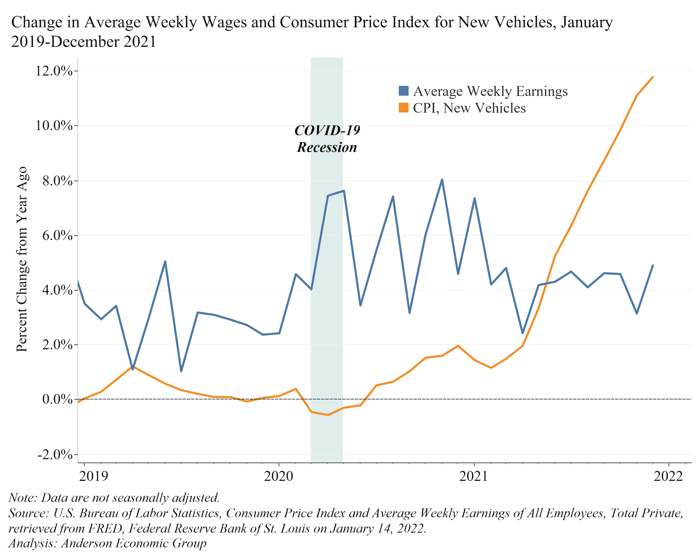 The Price of Used Vehicles Increased Significantly Faster than Average Weekly Earnings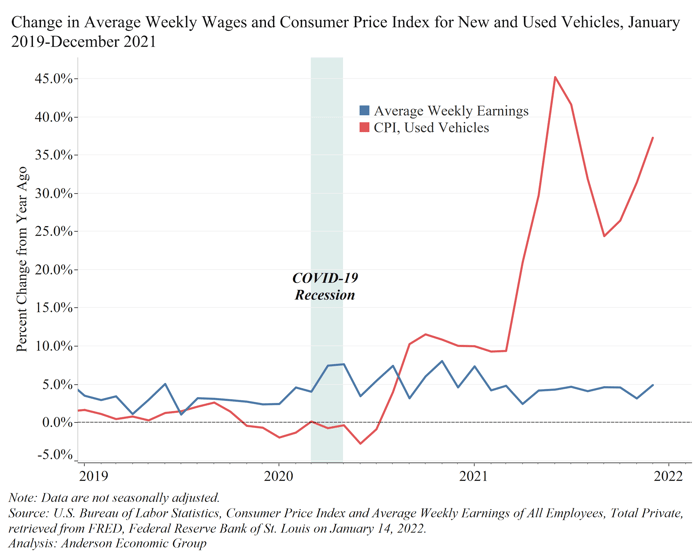 Researchers also found that at the same time, average weekly earnings for all private jobs in the U.S. increased only 4.9%, from $1,034.75 in December 2020 to $1,085.42 in December 2021. AEG's Dr. Cristina Benton notes that "The increase in the price of new vehicles has been extraordinary, easily outpacing the modest increase in employee earnings last year." Illustrating the real-world impact of this increase, Dr. Benton explains that "Employees need to work three weeks more than they did in December 2020 to afford a typical new vehicle in December 2021."
The picture doesn't look any better when it comes to used vehicles - in fact it gets worse. AEG says consumers needed to work even more weeks to afford a used car. Researchers say for the typical used car, the number of additional weeks of average weekly earnings required increased by five over the year prior:
December 2020

December 2021

Average new vehicle price

$41,335

$47,077

Average weekly earnings

$1,034.75

$1,085.42

Weeks of average earnings to buy a typical car

~40 weeks

~43 weeks

November 2020

November 2021

Average used vehicle price

$21,708

$27,569

Average weekly earnings

$1,044.23

$1,077.09

Weeks of average earnings to buy a typical car

~21 weeks

~26 weeks

Source: U.S. Bureau of Labor Statistics; Kelley Blue Book, Average Transaction Prices (New vehicles prices); Cox Automotive (Used Vehicle Prices). Analysis: Anderson Economic Group
"The methodology for comparing the price to purchase a new car with average weekly earnings was pioneered by Dave Littman at Manufacturer's National Bank (now Comerica) in the 1980s," explains AEG's principal and CEO Patrick Anderson. "It remains a credible indicator."
For the latest on the car buying market and advice for car shoppers tune in to the Car Pro Show every Saturday.
---
Photo Credit: Julia Shamayaeva/Shutterstock.com.