Under the best of circumstances, after going through the process of picking out your new or used car, getting settled on the price, and signing papers, you are ready to get out of there and drive your new car. As tempting as it might be to rush through the delivery process, don't. It's just as important as the other pieces of car buying. This is not the time to take shortcuts; your long-term satisfaction could be at risk if you do.

During the delivery process, you'll learn valuable information about your vehicle including about its technology features that could save you from headaches down the road. Technology continues to be the biggest issue consumers complain about when it comes to their vehicles. In previous year's J.D. Power Dependability Studies, like the one we shared with you last month, owner complaints revolved around Audio, Communications, Entertainment and Navigation systems. In the most recent study, seven of the top 10 problem areas are infotainment-related and include problems with built-in voice recognition, Android Auto/Apple CarPlay connectivity, built-in Bluetooth as well as difficult to understand/use navigation systems.
At some dealerships, the salesperson goes over everything with you, and at other places they have designated delivery people. Let's face it, cars are complicated these days and during the delivery process, you will go over the safety features of the car as well as the vast electronics in them these days.

It is a lot to absorb, no doubt about it.

Many people make the mistake of thinking they will just use their owner's manual to figure things out. My experience is most people never get around to it, and frankly, the manuals are difficult to comprehend in a lot of cases. I have seen people who trade their cars in without knowing it did certain things that they would have enjoyed.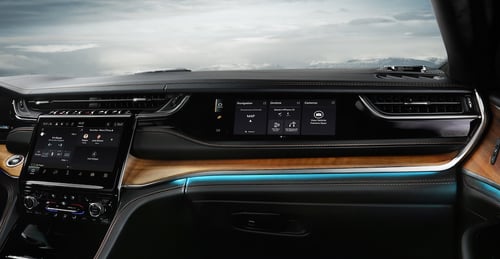 New available technology featured in the 2022 Jeep Grand Cherokee. Credit: Stellantis.
During the delivery, if you don't understand how a feature works, stop everything until you do. Operate the features yourself instead of just listening to the person helping you. Most dealerships will take the time to sync your cellular phone with the car you are purchasing as they let you watch.

If you just simply cannot take the time to learn all the features of your car, set up a time to go back and go over everything. Many dealerships have new owners' clinics for these purposes, and they can be most helpful.

If you find yourself overwhelmed with all the gadgets, stop the delivery and just get the basics and safety features down, but make that appointment to go back and learn the balance of the features of your new car. If you choose to do this, keep a pen and paper handy or use your voice memos on your phone to note questions so you don't forget something. When you go back, you'll be more relaxed and ready to absorb the information on the fun gadgets.

Over time, you'll forget much of the car buying experience, but nobody ever forgets the magic moment when your salesperson hands you the keys to your new car. Just make sure the delivery information you get is clear so you can truly enjoy the benefits of car ownership.
---
Photo Credit: All-New 2023 Kia Sportage. Kia.
This article was updated with new information on March 3, 2022.