Vehicle thefts are up and pickups remain the most stolen vehicles in America, according to the latest National Insurance Crime Bureau (NICB) Hot Wheels report. It identifies the top 10 most stolen vehicles in the United States in 2020. The Ford full size pick-up was the model most targeted by thieves for a second year in a row. Chevrolet moved into second place, pushing the Honda Civic to third.
NICB researchers say thefts were up in 2020 over 2019 due to a number of factors.
"Auto thefts saw a dramatic increase in 2020 versus 2019 in part due to the pandemic, an economic downturn, law enforcement realignment, depleted social and schooling programs, and, in still too many cases, owner complacency," said David Glawe, president and CEO of the NICB. "For many people, a car is the second largest investment they will ever make behind a home. No matter what kind of vehicle you have, take steps to protect your investment – lock your car and take your keys."
Thefts for all Top 10 most stolen models were up in 2020 compared to 2019, but only Ford, Chevrolet, and GMC full size pick-ups and the Honda CR-V saw double digit theft increase percentages. vIn this year's list, six of the top 10 most stolen vehicles were Japanese models.
Top 10 Stolen Vehicles in 2020
#

Vehicle Make/Model

Thefts

Increase from
2019

Most Common
Model Year
Stolen

1

Ford Full Size Pick-up

44,014

13.0%

2006

2

Chevrolet Full Size Pick-up

40,968

25.7%

2004

3

Honda Civic

34,144

2.8%

2000

4

Honda Accord

30,814

0.2%

1997

5

Toyota Camry

16,915

8.0%

2019

6

Nissan Altima

14,668

9.8%

2020

7

GMC Full Size Pick-up

13,016

16.6%

2005

8

Toyota Corolla

12,515

3.1%

2020

9

Honda CR-V

12,309

21.9%

2000

10

Dodge Full Size Pick-up

11,991

6.2%

2001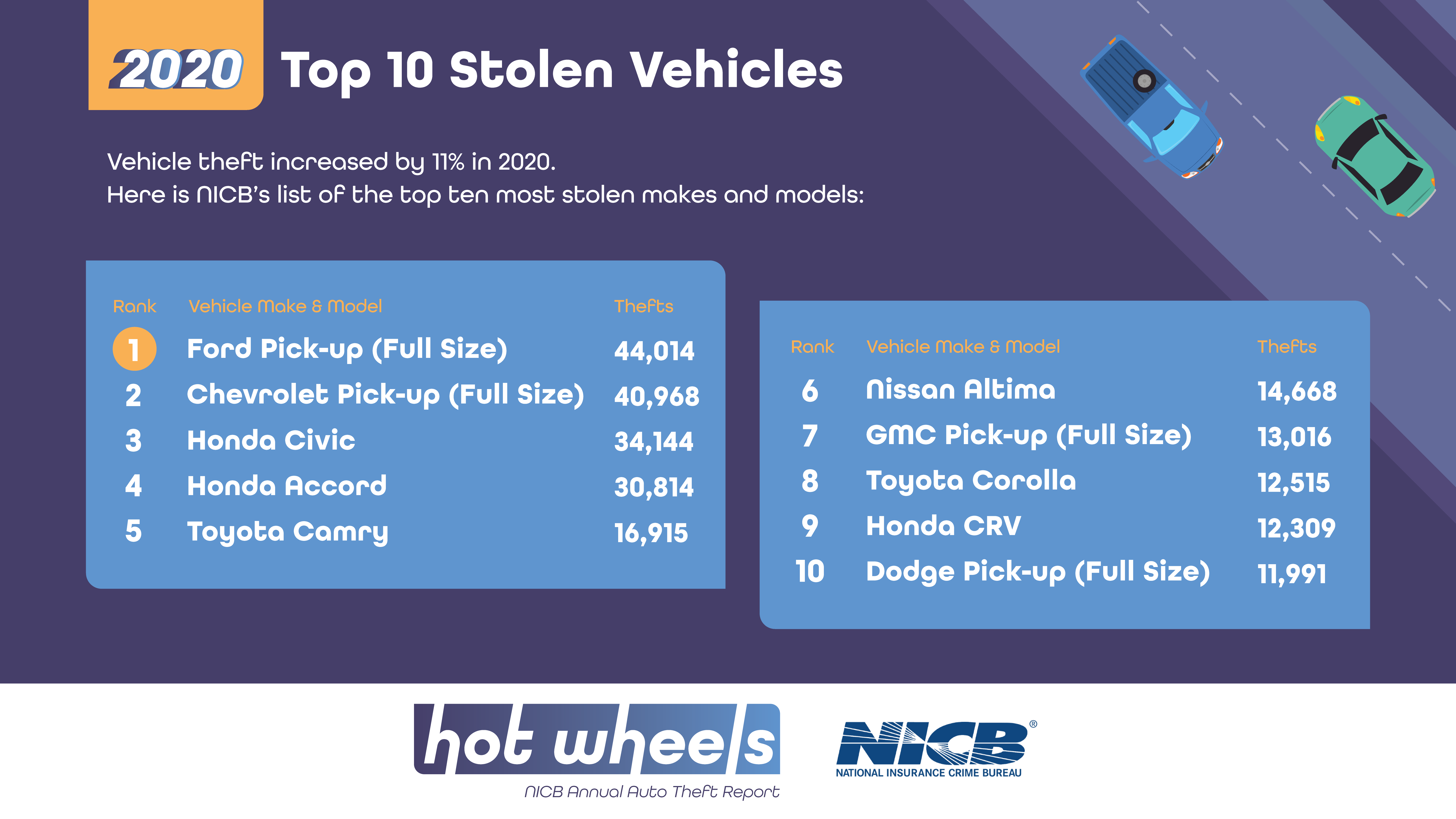 Auto Theft Prevention Tips
To guard against thefts of vehicles, the NICB provides these tips on its website:
Common Sense — the common-sense approach to protection is the easiest and most cost-effective way to thwart would-be thieves. You should always:

Remove your keys from the ignition

Lock your doors/close your windows

Park in a well-lit area

Warning Device — the second layer of protection is a visible or audible device which alerts thieves that your vehicle is protected. Popular devices include:

Audible alarms

Steering column collars

Steering wheel/brake pedal lock

Brake locks

Wheel locks

Theft deterrent decals

Identification markers in or on vehicle

VIN etching

Micro dot marking

Immobilizing Device — the third layer of protection is a device which prevents thieves from bypassing your ignition and hot-wiring the vehicle. Some electronic devices have computer chips in ignition keys. Other devices inhibit the flow of electricity or fuel to the engine until a hidden switch or button is activated. Some examples are:

Smart keys

Fuse cut-offs

Kill switches

Starter, ignition, and fuel pump disablers

Wireless ignition authentication

Tracking Device — the final layer of protection is a tracking device which emits a signal to police or a monitoring station when the vehicle is stolen. Tracking devices are very effective in helping authorities recover stolen vehicles. Some systems employ "telematics" which combine GPS and wireless technologies to allow remote monitoring of a vehicle. If the vehicle is moved, the system will alert the owner and the vehicle can be tracked via computer.
About the Report
The annual Hot Wheels report examines vehicle theft data submitted by law enforcement to the National Crime Information Center (NCIC) and determines the vehicle make, model, and model year most reported stolen in 2020.
---
Photo Credit: NICB