The all-electric Rivian R1T - the first mass-produced EV truck to hit the U.S. market - is MotorTrend's 2022 Truck of the Year. MotorTrend calls the Rivian R1T the "most remarkable truck MotorTrend has ever driven", saying it "re-examined what a modern pickup could be." MotorTrend is so enamored with the pickup it says it's arguably the worthiest recipient of the "Golden Calipers" in recent history.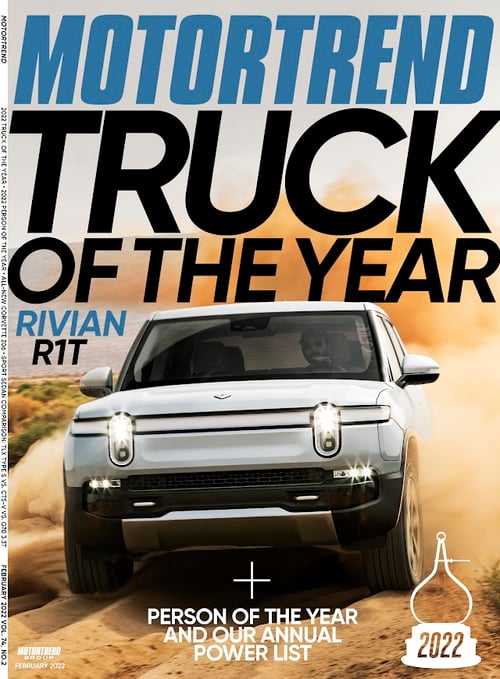 Photo Credit: MotorTrend
"MotorTrend's 2022 Truck of the Year announcement may be our most significant since 1949," said MotorTrend Group Head of Editorial, Ed Loh. "The Rivian R1T is a monumental achievement and astonishes with a quality of design, engineering, materials, and technology unmatched in trucks today, while providing a driving experience like that of a high-performance luxury car. As the first all-electric pickup truck to market, the R1T manages to achieve all of this without offending historic truck-buyer sensibilities. For these reasons and more, MotorTrend is honored to name the Rivian R1T our 2022 Truck of the Year."
The other finalists in the running for this year's Truck of the Year award were the 2022 Ford Maverick, the GMC Hummer EV Pickup and the Hyundai Santa Cruz.
Like MotorTrend's Car of the Year, which went to the Lucid Air, the Rivian R1T excelled in each of MotorTrend's six key criteria: safety, efficiency, value, advancement in design, engineering excellence, and performance of intended function. In doing so, MotorTrend says "Rivian delicately balanced a modern, minimalist EV aesthetic with the quality of materials its price point demands and the functional requirements of a "true" pickup truck."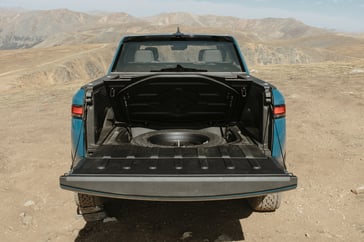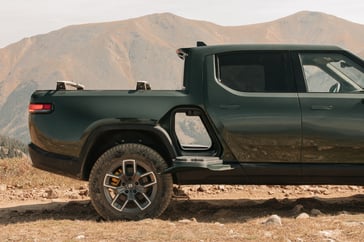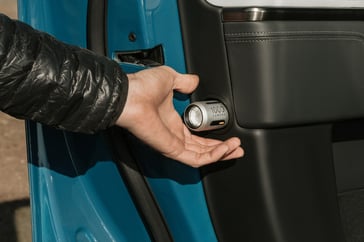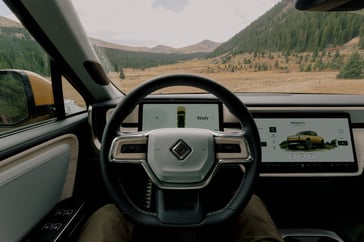 Credit: Rivian.
MotorTrend also says the technical sophistication of Rivian's electric drivetrain is unparalleled. It's the first production vehicle to bring to market the concept of individual motors for each wheel and the traction and stability advantages they provide, underscoring its "engineering excellence."
MotorTrend describes the Rivian R1T's handling nature as thus:
On a winding road, the R1T's instantaneous torque vectoring makes it handle better than any other pickup on the market and more like a high-performance luxury car. Off-road, it digs through sand, sloshes through mud, and climbs over rocks as well as a Jeep Gladiator Rubicon, but with better ground clearance, breakover angle, and departure angle.
Payload and towing capacity also earned high accolades. MotorTrend says during its testing at no point did Rivian cut back on the truck's ability to do work:
At 1,764 pounds of payload, it falls squarely between the best midsize truck and entry-level full-size truck, just like the R1T's dimensions. Its 11,000-pound towing capacity is on par with today's top full-size trucks, and its stability, acceleration, and braking while towing up to 9,000 pounds in MotorTrend's testing are unimpeachable. None of this would matter if it didn't have the range to get the job done. Rivian's 135-kWh large battery pack delivers a full 314 miles of range, far more than enough for most road trips and off-road adventures.
In closing, MotorTrend says the Rivian demonstrates that there are new ways to think about pickup design and engineering. It also proves they can be better for being all-electric vehicles.
For more on why MotorTrend named Rivian R1T its 2022 Truck of the Year, check out MotorTrend's Truck of the Year award article.