Now that Barrett-Jackson's 2021 Vegas auction in the rearview mirror, the auction house is now gearing up for its inaugural Houston event this coming September. It will have a lot to live up to considering the success of the record-making Vegas auction. We're talking a record $48 million in sales according to Barrett-Jackson. Two of the most notable cars sold brought in more than a million dollars each. A 2015 McLaren P1 sold for $1,567,500, and a 1957 Mercedes-Benz 300SL Roadster brought in $1,045,000.
Barrett-Jackson says its Vegas auction offered one of the most diverse 100-percent No Reserve dockets of any previous Las Vegas Auction. Barrett-Jackson sold more than 700 vehicles for over $46 million, while 284 pieces of automobilia brought in over $884,000, and $775,000 was raised through the sale of four charity vehicles. Barrett-Jackson also says it's the first collector car company in history to sell four NFTs during a live, in-person auction, which brought in $67,000. Those numbers combined brought total auction sales to over $48 million with a 100-percent sell-through rate and more than 65 world-record auction sales.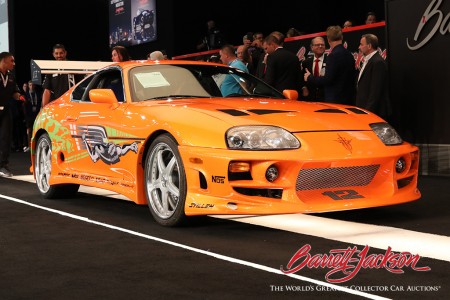 1994 Toyota Supra – "Fast & Furious" Movie Car sold for $550,000.
"We arrived in Las Vegas riding on the tremendous momentum of our record-setting Scottsdale Auction in March," said Craig Jackson, chairman and CEO of Barrett-Jackson. "We've accelerated that success with a 100-percent No Reserve docket, more world-auction records, a ground-breaking sale of NFTs, and making history as the first public event in the fabulous new West Hall of the Convention Center. It's absolutely clear that the collector car market is stronger than ever, and Barrett-Jackson is fueling that enthusiasm. We couldn't be more proud to show the world that Las Vegas is back open for business. Now collectors and enthusiasts have even more reason to look forward to joining us in Texas in September. Now is the time to consign for our inaugural Houston Auction."
Top 10 Vehicles Sold
2015 McLaren P1– $1,567,500

1957 Mercedes-Benz 300SL Roadster – $1,045,000

2019 Ford GT – $1,023,000

1965 AC Cobra 289 Roadster CSX 2439 – $907,500

1994 Toyota Supra "Fast and Furious" Movie Car – $550,000

1963 Chevrolet Corvette Split-Window Custom – $396,000

1970 Chevrolet Camaro Custom Coupe "The Grinch" – $385,000

2011 Porsche 911 Speedster – $385,000

Frank Sinatra's 1970 Maserati Ghibli – $330,000

Henry Ford II's 1966 Ford Mustang GT K-Code Convertible – $330,000
Charity Proceeds
Four vehicles also crossed the block benefiting charity -- raising $775,000 to the more than $133 million raised for charity to date.
2021 Ford Bronco 4-Door Badlands Raiders Edition – $275,000 benefitting Grant a Gift Autism Foundation and Raiders Foundation

2020 Chevrolet Camaro ZL1 Hertz/Hendrick Motorsports Edition – $250,000 benefitting Jack & Jill Late Stage Cancer Foundation

2021 Dodge Durango SRT Hellcat AWD – $180,000 benefitting Ronald McDonald House of Detroit

1956 Chevrolet 150 – $70,000 benefitting Honor Flight Network
Star Sightings
Barrett-Jackson says entertainment and sports celebrities attending this year's auction included "Mr. Las Vegas" Wayne Newton, Nevada Governor Steve Sisolak, Las Vegas Raiders President Marc Badain, 8-time U.S. Olympic gold medalist Apolo Ohno and Carroll Shelby's grandson Aaron Shelby.
"It's abundantly clear that the collector car community was anxious to return to live events that fuel their passion for great vehicles," said Jackson. "Of course, we all know that Texans like to do everything bigger and better. Better make plans now to join us in Houston and capitalize on this wave of excitement that's gaining momentum with every auction."
Barrett-Jackson is now accepting consignments for its first-ever Houston Auction, September 16-18, at the NRG Center.
---
Photo Credit: Barrett-Jackson