The wait is almost over for the all-new 2022 Toyota Tundra. Production of the next-generation model, due to arrive in dealerships by the end of the year, is now underway. The first new Tundra's rolled off the line last week at Toyota Motor Manufacturing, Texas (TMMTX) in San Antonio.

All-New Tundra Production Begins
Toyota celebrated the occasion with 3,200 employees and special guests that included Texas Governor Greg Abbott and San Antonio Mayor Ron Nirenberg. TMMTX is building the all-new Tundra and hybrid-powered Tundra (due out next). It's the the Tundra's first-ever major model change at the San Antonio plant since it began assembling trucks in 2006.
Toyota says its engineering and design teams spent years developing the new Tundra. The automaker says the process also included TMMTX's over 20 on-site suppliers – a point that Toyota Texas president Kevin Voelkel made at the event.
"Today, we celebrate the hard work, the dedication and this accomplishment that has been years in the making." Said Voelkel. "There's no question we are delivering the toughest, most capable, most advanced Tundra to date!"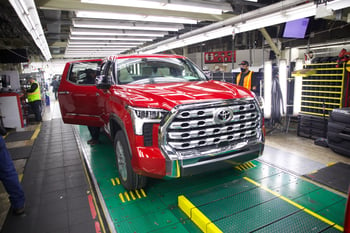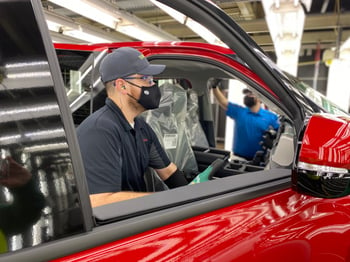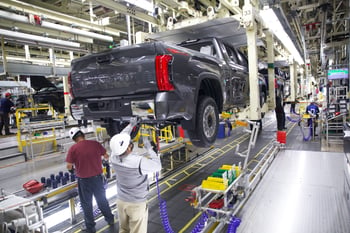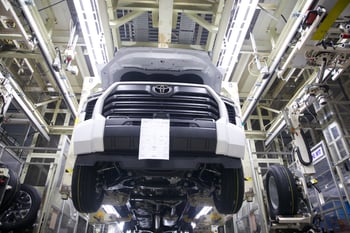 The Texas plant has been preparing for Tundra production since 2019 when TMMTX announced an investment of $391 million to prepare for production of the next-generation pickup. Toyota's cumulative investment in TMMTX is more than $3.1 billion. The automaker says the investment helped TMMTX expand its facility by 141,000 linear feet – equivalent to 470 football fields – to accommodate new processes and cutting-edge technologies used to build the new pickup. This includes preparations to assemble a hybrid electric version Tundra, the brands 12th electrified vehicle. Toyota says TMMTX has the annual capacity to build 208,000 vehicles.
"There is no brand more powerful than Made In Texas, and Toyota's San Antonio-based production of the all-new 2022 Toyota Tundra is a testament to that," said Governor Abbott. "Toyota has played a pivotal role in Texas' continued economic success, and I am grateful for the billions of dollars in investment and thousands of jobs they have brought to the Lone Star State. The unveiling of the 2022 Tundra and the first-ever Tundra Hybrid is a celebration of what businesses can achieve when they choose to invest in the best state in the nation."
TMMTX also announced $650,000 in donations to strengthen and expand access to transportation, food, STEM education and workforce development with a specific focus on San Antonio's south side. You can check out the benefiting organizations below:
Donation Information
$100,000 – San Antonio Food Bank, supporting food accessibility and delivery

$250,000 – VIA, remove mobility barriers and expand mobility options for South Side residences

$300,000 – South Side Independent School Districts, enhancing STEM education, continuing education for educators and wrap-around support services for students

$50,000 – East Central Independent School District

$50,000 – Harlandale Independent School District

$50,000 – Somerset Independent School District

$50,000 – South San Antonio Independent School District

$50,000 – Southside Independent School District

$50,000 – Southwest Independent School District



Availability
The new Tundra begins arriving in dealerships by the end of the year, starting from $35,950. Some models won't be available until next Spring. You can check out our complete guide to the new Tundra here.
---
Photo Credit: Toyota.