Back to Search Results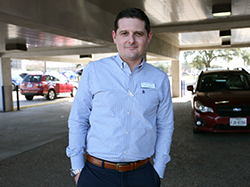 Chris Hudson
General Manager





38 Reviews
Select your CarPro to unlock your VIP access & experience
Claiming Your VIP Priority Pass is easy and free.
Submit the form to instantly receive your Priority Pass over email.

Chris Hudson and their team will receive your info and vehicle preferences to connect directly with you.

Bring your Priority Pass with you into the dealership and enjoy a VIP car buying experience.
Reviews (38)





This is our 6th Subaru Forester, but this buying experience was the best one we've had. Mark Ziehr at Austin Subaru made it easy for us to decide what we wanted, and there was no haggling and absolutely no stress. We were in and out of the dealership in
More...
Mary Grigsby
8/16/21





Mark and the whole staff at Austin Subaru were very professional.
Walden Wong
5/26/21





Looking to buy in a few months, dealer had hardly any inventory, told salesman that I had signed up for CarPro.
Gary January
5/3/21





The fastest I've ever been out of a dealership with a new car. Burak was very friendly, informative, and helpful. Did not feel rushed or pressured at all. Felt like the information I was getting was honest and transparent - unlike some dealerships that
More...
Mariah Adkins
4/21/21




We were contacted right away by phone after we requested our VIP pass. We went to the dealership and it was a mad house. I'm not sure how they could service all their sales customers that day. We left without being helped.
Edgar Josephson
4/9/21





John was fantastic. He was very helpful and he definitely understood my wants and concerns. This is the second car we have bought from him.
Melanie Campbell
3/5/21





We have a folding wheel chair to carry. So we gave it the can my wife load the wheel chair test. She could not so there was no point to going any further. She said she would check around to see if she could get a simple carrier for the folding wheel
More...
Craig Flarida
2/9/21





Clayton Lajaunie was great. He was knowledgeable about the vehicle, friendly, and courteous. I would give him more than 5 stars, if that was available! Though I liked the Subaru Forester ride, I ended up buying a Mazda CX-5.
Maria Halsted
1/17/21





Easy to work with, met all expectations.
David Jones
1/1/21





Listened to learn what we wanted, then provided vehicle choices to match our desires. <br>Provided the information we needed without overselling something we did not want.
W.Myron Remington
12/14/20





Honest and ethical.
Warren Sharp
10/8/20





Misty was very helpful and took her time with me. I would recommend this dealership and sales rep. for anyone looking for a new Subaru
cathey Reynolds
10/2/20





Burak did a fantastic job of recovering a bit of a bad situation. The original person who contacted me was Nate, and I indicated the two specific cars from their online system I wanted to view, but he failed to mention that they were in transit and not
More...
Jeremy Omas
8/5/20





Dealership was very accommodating.No high pressure sales tactics. Mr Pride was very attuned to what WE Wanted.
Brian Vincent
7/15/20 Reply





I've purchased 3 vehicles and have always had a good experience.<br>I love having the CarPro advantage.
Jeremy Omas
6/17/20 Reply





I submitted my request through the CarProUSA website. I received a text from Edwin within 24 hours. We texted back and forth and set up an appointment for a test drive for my wife. After the test drive, we drilled down a bit on the details. Apparently,
More...
Ed Stanton
6/14/20 Reply





Everything seemed to work out great.
Michael Shirrell
6/11/20 Reply





Steve, Eddie, Hilary and Yelena made buying our new Outback easy. We were able to do most of the work remotely so that dropping off our trade-in and picking up our new Outback took only about an hour.
Laura Towers
5/20/20 Reply





Very helpful
Joe Hawkins
4/27/20 Reply





My husband and I received great service and attention from all the people we worked with: salesperson, Luke Hanley, design consultant, Sonny Maxcy, and business manager, Danny Sosa. We felt listened to about our needs and wants in a new vehicle and in
More...
CAROL HELMS
2/29/20 Reply





Lucas Hanley is knowlegeable friendly and followed through with what he said in a timely manner. I highly reccomend him and this dealership.<br>Danny Sosa, the business manager was superb also, with thorough explannations and answering all questions
DAVID Helms
2/21/20 Reply





Great!
Chris Hemingson
1/17/20 Reply





Everyone we encountered at Austin Subaru treated us with curtesy and with no pressure to buy. Jake answered all our questions and made the buying procedure as stress free as possible. We happily recommend Austin Subaru!
kris Alonso
1/17/20 Reply





Everything about our experience at Austin Subaru was amazing. Jake was very personable, knowledgeable and even let us bring our dog into his office. Great person to work with.
kris Alonso
1/4/20 Reply





Robbie Docherty was very helpful and knowledgeable when I came in to test drive a Subaru Forester.
Maurice Dowdy
12/17/19 Reply




Salesman was personable and offered a price approximately $2000 more than a dealer in Houston, Gillman Subaru.
Ann Katz
12/10/19 Reply




Everyone was very nice and professional. We made a deal on a Saturday. The vehicle was to arrive the following Tuesday. The dealer was to install all the accessories and have the vehicle ready for pick up the following Saturday. Apparently the vehicle
More...
Edgar Josephson
10/18/19 Reply





Austin Subaru contacted me as a result of my registering with Car Pro. John was just great. I wanted to drive the cars for a bit longer than the customary short test drive. They set that up for us to be able to take each of the cars out for a good little
More...
Thomas Jones
10/8/19 Reply





This was a painless car buying experience. Brittany went above and beyond in trying the find the perfect Forester for me. This was the first time while buying a car that I've felt no pressure, and it was apparent that Brittany's #1 concern was that I got
More...
Mary Grigsby
9/15/19





Tony showed me a variety of vehicles. I ended up purchasing a different vehicle, but will be back when I decide to buy another vehicle. Service was fantastic!
John Rodriguez
8/15/19 Reply





I initiated the contact by phone and John was very prompt in returning my call. He found a Forester that would meet my needs in another city and arranged to have it delivered. When I went to the dealership to see the car, John took all the time I needed
More...
Latene Stonebarger
7/28/19 Reply





John was patient, attentive, and helpful. It was a good experience.
Alf Czerwinski
6/22/19 Reply





Brittany was very helpful. I test drove a vehicle. It turned out I didn't like Subaru. She was helpful and listened to what I wanted in a vehicle
Emelea Velasquez
5/14/19





My experience at Austin Subaru was very positive.
Wendy Schneider
4/4/19





Jay was awesome. I am definitely coming back with my mom and my husband back. They are both in the market. Suburu has amazing cars and service at this location. Jay was knowledgeable, friendly, and to the point when I talked with him.
Julie Blacklock
2/15/19 Reply





Easy process, including our trade in
John Damato
2/14/19 Reply





The most enjoyable car buying experience in the 40 years of me buying cars. The folks here know how to treat clients. Ready to help in anyway possible. The dealership itself is clean, relaxing and geared towards the best possible experience for the
More...
Freda Jackson
2/7/19





The dealer was very accommodating, Most of the paperwork was done online we were in and out in under 1-1/2 hours.
Debbie Gallen
9/2/18
Car Buying Resources
Expert advice from over two decades in the car industry.