Back to Search Results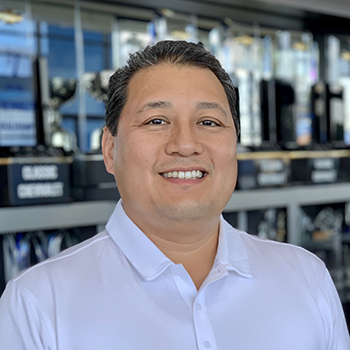 Dorian Jimenez
General Sales Manager





64 Reviews
Select your CarPro to unlock your VIP access & experience
Claiming Your VIP Priority Pass is easy and free.
Submit the form to instantly receive your Priority Pass over email.

Dorian Jimenez and their team will receive your info and vehicle preferences to connect directly with you.

Bring your Priority Pass with you into the dealership and enjoy a VIP car buying experience.
Reviews (64)




Don't remember meeting Dorian, but Mauro did his best, getting my potential trade-in value up $2k, but just couldn't get a payment that I could live with
Ken Trotter
9/7/21





We were able to answer all our questions for now over the phone and have a plan moving forward.
Ernest Muegge
5/31/21





5th car purchased hassle free
ROBERT JUCKNIEWITZ
5/21/21





Everyone at the dealership was very friendly and helpful. Sarge is the man you want to see though for any vehicle you are looking for! He knows how to find what you want for the price you're looking for, and he is an absolute pleasure to work with.
Christopher Silva-Salgado
5/17/21




I sold my leased Camaro to Classic
Ken
5/17/21




Mike has been a pleasure in our dealings to date. At present they have no inventory which matches my needs. I have also had contact with the sales manager who inquired if my needs were being met. I appreciated his interest.
Bill Gressett
4/29/21





It always seems to take longer to get into the finance office to finalize the deal no matter where you go.
Roger Sperry
4/27/21





Made some new friends while experiencing no high pressure sales pitches. But lots of information and questions about my likes and dislikes. Then viewing inventory that fit my interest and explained the feathers of each. Very patient while I compared
More...
James Ford
4/16/21





Mike went over and above, I got there late Saturday, driving from Temple TX. Mike stayed late and made sure I was taken care of. Even helped me move my tool box from my old truck to the new one.
Joseph Mayer
4/8/21





I was looking for a slight upgrade in engine size and towing capacity in a slightly used vehicle after my truck was stolen. Rodney understood what I was looking for and there were only a couple that would work. He encouraged me to take one home to be
More...
Tim Morgan
4/5/21





So far Classic has been great. They are still working with me to find a used car that will meet my needs.
Don Smith
4/4/21





I never actually presented my Pass to Toby, but we talked about the "Jerry Reynolds deal" several times and when we got down to pricing he told me that he was giving me the supplier pricing. Please let me know if I handled this incorrectly. Thanks,
More...
RICHARD A King
4/3/21





I've dealt with Classic for years. This time, they just didn't have any 2500 HD Diesels in the LTZ or High Country so we were going to have to order one. We decided we would wait until there is a situation where they have more trucks than they can sell
More...
Jeff Byers
4/1/21





did not make a purchase yet.
BECKY Roundtree
3/27/21





Reddy made it easy. We kinda knew what we wanted and he gave us more than we expected.
Mike Lewis
3/19/21





Jennifer was knowledgeable and gave me undivided attention. She and the whole experience were amazing!
Sandi Jennings
3/18/21





Great job!
Chad Willson
3/14/21





I have not YET purchased a vehicle, but Gisela is working very hard to find the right one for me. She is very understanding that this isn't something I am rushing into and has been very patient with me. The right car/deal will come along. I'm glad to say
More...
Jessica McClanahan
3/7/21





Outstanding
Ken
2/2/21





Dorian and Doug where exceptional at assisting us in the purchase of a new vehicle. I would tell anyone it is worth the drive to do business with classic Chevy in Grapevine, no matter the distance. They saved my wife and I so much on our purchase that we
More...
Roy Davisson
1/29/21





I was getting payoff information on my lease over the phone
Ken
1/24/21





Went there to test drive 2 vehicles. Service by Kevin (whom Dorian asked to help us) was prompt and efficient. No pressure. Good information on both cars.
Jeanne Haden
1/17/21




Transaction was relatively painless. However, although the new vehicle was pretty much a set price, they weren't interested in giving me what I thought was a fair price for my trade in. We ended up settling on a deal but were around $1500 apart after a
More...
Michael Hester
1/4/21





I fof not go. I wanted to see a C8 in person and hhry did not have one.
BRIAN WANNAN
12/22/20





They tried I suppose but the trade in value wasn't there compared to other dealers. I couldn't make the numbers work for my budget.
Gerald C
12/11/20





They researched my questions, gave me a lot of factory information I needed, and found the truck I was looking for. Unfortunately, my son changed his mind and decided he wanted a different make.
Chris Corti
12/11/20





Great dealership!
Sharon Gosnell
12/10/20




Classic grapevine connected me to Sugarland. Was very helpful. Rand signed me up to sign me up in 6 months for my corvette order. Let's see if I'll hear from him in April to place my order.
Donald Brown
11/24/20





Still in negotiations, he's still trying to find vehicle that fits needs
SCOT HAYS
11/21/20





Great operation
Gary Gaulden
11/20/20





Hank Gaylor, the sales manager was great! We worked together to build a 2021 Corvette C8 L51 Convertible. I am completely satisfied.
Mark Bussell
10/19/20




Buying the suburban was not a problem as that part took less than an hour. Trying to get the car through financing took over two hours, not due Richie, he was fantastic, he just didn't have any other help present. As soon as I printed out the VIP pass
More...
Brian
10/15/20





Frank Rebolloso is professional in every sense of the word. He worked hard to find the Silverado I wanted. Classic Chevrolet is blessed to have Frank working there.
Dave Megaffin
10/13/20




Ken was assisting another customer but I did walk the lot inventory and received a follow up call from Ken.
Ray Alison
10/11/20





These guys were just superb! We met Dorian, who was great, as were Peter Reese and Ritchie Lopez. But the star of our show was Troy Scott, our salesman. Troy was awesome. Friendly, kind, conscientious to a fault, and extremely professional. We had the
More...
Buddy & Carol Rose
9/30/20





Robert texted me right away 8/10 but I had to think it over. I didn't mention the VIP and apparently waited too long<br>since I saw on Google that 2021 Corvette's were sold out. I texted Robert but didn't get a reply. Later, Lauren texted me and
More...
Paul Kessler
9/10/20





Rodney Jackson was very easy to work with and not pushy. He was very patient with my 4 kiddos as my wife and I took turns driving different vehicle<br>Candace Timmons in finance was also a pleasure to work with as she moved us through the paperwork
More...
Cody McCain
8/20/20





I have done business with Classic in the past, and Dorian and Sarge were great to work with. Got a great trade-in offer on my truck, but still a little too far apart on the 2020 Silverado for my comfort. That said, the guys at Classic are great, couldn't
More...
Pat McDermott
8/17/20





He called before we went out there and asked what we were looking for and important features. He let us know about additional discounts that we could use. He didn't try to up sell us. He let us know the price of the vehicles before we even arrived to
More...
Marjorie Barnes
6/1/20 Reply





The experience was great with the salesman.
Rickey Shields
5/17/20 Reply





My experience went exactly as you said on your radio show that it will. Doug was great to work with, did everything he said and the dealership is first class and supported Doug in dealing with me and in turn that supported me. I am very pleased with my
More...
Sam Rodgers
5/5/20 Reply





Complete purchase price negotiation accomplished via internet. Fair, timely, stayed true to his word, helpful.
Sharon Kempton
5/2/20 Reply





Ready and C J worked with to get us the best deal. Quality truck, awesome price.
Pernell Larson
4/30/20 Reply





Chris was awesome, super friendly and knowledgeable. He was very honest and treated us like family, there was also no pressure. The manager was very awesome as well, we really had the best car buying experience.
Jodi Murphy
4/28/20 Reply





They tried their best but we could not come together
David Patrick
4/26/20





The dealership listened to my vehicle requirements and brought several SUVs to be inspected. Unfortunately, the vehicles were not covered by the zero percent interest, which was the motivation for my purchase of a new vehicle.
Elaine Lacker
4/25/20





Very accommodating, friendly, and explained every aspect of the purchasing process. Found the exact car that I wanted (a silver Premier Equinox....which was not easy at this point in the year) - never tried to sell me more. Kept me up to date as to the
More...
Peggy Dickerson
3/12/20 Reply





This was an awesome experience. Fantastic customer service that was I had never experienced before in purchasing a new truck.
Bob Carroll
2/28/20 Reply





Great sales rep. Frank did lots of work on providing me with the car items I wanted. He was very personable, not pushing And a very nice man overall. I sincerely appreciated his professionalism.
Bebe Beheler
2/25/20 Reply





Asked Hank by e-mail the best guess delivery for a C8 Corvette. He responded very quickly with a very detailed reply of his best estimate. Bottom line about 18 months or maybe sooner depending on the number who drop out along the way.
Michael Mead
2/12/20





Didn't present pass, but verbally told them. Quick & simple
John Wyche
2/3/20 Reply





When they saw the Car Pro Certificate, they jumped through hoops to serve me. I needed a used truck for my brother and I was having to pay for it so I didn't want to spend too much. They had exactly what I wanted and sold it to me at a price I was
More...
Jeff Byers
1/28/20 Reply





Located a car at another dealership to meet our needs. Finance gentlemen was very upfront on the miles per year driven on the current car and thus factored that into the maintenence contract---thus did not OVERSELL on the maintenance agreement (only
More...
Elno Russell
1/6/20 Reply





Very pleased with the no hassle purchasing. Drove over 100 miles to buy the vehicle. Vehicle price was agreed upon then followed by quick paperwork.
Scott Carpenter
1/3/20 Reply





We had a great experience at Classic Chevrolet Grapevine! Mike Gordon and CJ Ramza where very cordial and informative. Because of them we found and bought the truck we were looking for. Shout out to Mike Gordon and CJ Ramza!!
Richard Chennault
11/15/19 Reply

we are from oklahoma I didnt visit the dealership but i told them about the car pro show priority pass that i printed from your website, and called the person ( mike ward ) that was on the priorty pass. I printed my priority pass on sat 11/01 Called on
More...
Kevin Upshaw
11/8/19 Reply





On the internet, I saw a vehicle I liked. Made e-mail contact at 10:35am and after a few exchanges finalized a deal at 2:31pm same day all via e-mail. Visited the next day and made a wire payment and delivery was the next day. (Note: my brother has a
More...
John Bihr
8/22/19 Reply





We just had the best car-buying experience of our lives! My husband and I worked with Joni Aviles. He was fantastic to work with. We weren't planning to buy a Chevrolet - just went in to compare with what we WERE planning to buy. Joni was well versed on
More...
Mike Flak
6/10/19 Reply





Very helpful. They didn't have the vehicle I was looking for. The man on the pass I could not find, but Brian jumped in there and did all he could do.
Lawrence Otto
6/4/19 Reply





I was contacted directly after receiving my VIP Pass for the dealership and the process went very smoothly. Hector Lopez was very responsive to all of my email communications and very helpful in answering all questions I had. The next step was going to
More...
Trace Fieseler
4/24/19





Extraordinary dealer, awesome experience; I remember them as Durant Chevrolet in Granbury TX
Ken
4/16/19




Good experience, but another dealer made a better offer.
Paul Lash
4/7/19





Alex was great
Mark Smith
4/7/19




This was the 5th purchase I have made with the help of Jerry and the Car Pro deal - all at Classic Chevrolet in Grapevine and my son in law has bought 2 Toyotas from Freeman Toyota! We couldn't be more satisfied. Everything Jerry says on the air is true
More...
RICHARD A King
2/15/19 Reply
Car Buying Resources
Expert advice from over two decades in the car industry.