Back to Search Results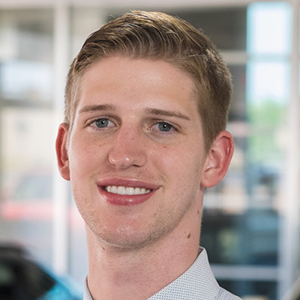 Holden Sykora
CarProUSA Manager





17 Reviews
Select your CarPro to unlock your VIP access & experience
Claiming Your VIP Priority Pass is easy and free.
Submit the form to instantly receive your Priority Pass over email.

Holden Sykora and their team will receive your info and vehicle preferences to connect directly with you.

Bring your Priority Pass with you into the dealership and enjoy a VIP car buying experience.
Reviews (17)





Everyone at Smith South Plains was awesome to work with & the process was outstanding. It was a challenge to find the particular Ford Ranger I was looking for. Madee Alvarez was my first contact with Smith South Plains & she was very helpful
More...
Paul Enloe
4/20/21





Nice experience. Great service.
James Beauchamp
3/11/21




Dakota was helpful and answered all my questions promptly. At the end of the day we simply couldn't make the numbers work with the truck he had in inventory.
Scott Suydam
3/9/21





I did my research of their inventory prior to visiting the dealership. Jacob listened to my needs and got me the best deal possible. There website is the most transparent of the all the dealerships I looked at. I am not particularly brand loyal. I try to
More...
Joseph Brown
2/10/21



I wanted to trade my existing F150 Larriet in on my purchase but Dealer would not even give rough trade in value. They said since they would be wholesaling the vehicle that is all they would offer. Dealer kept me waiting for an hour to determine the
More...
Randal Hamilton
1/23/21




Communication was excellent, Hunter was very helpful in helping us figure what we wanted because we weren't sure if we wanted a sedan or small SUV.
Jerry Hodges
1/23/21





We decided we could not purchase a vehicle at this time. Sarah was extremely helpful and understanding. When we decide to purchase we'll use you and her again.<br> thanks
Dennis Miller
1/1/21





Great dealership.
Doug Choate
10/25/20





I was given a fair amount for my trade, I was in and out in about three hours. I did lease a 2020 Ford edge which I love. And thanks for recommending south plains Ford because they were aces In my book
Tom Baker
10/23/20





Everyone at the dealership was very friendly and professional. We were in the market for a large SUV comparable to the Suburban that we had. Unfortunately they did not have anything available at this time. I will probably be looking for a used truck in a
More...
Tommy Booker
7/30/20 Reply





Jacob was very professional and did all he could to answer any and all questions. I did not feel pressured but assisted in making my decision. I will gladly refer anyone interested in buying a new or used vehicle to Jacob.
Carroll Rhodes
3/24/20 Reply





I was very pleased with the whole experience.
Eddie Sheek
3/8/20 Reply





We did not present the VIP Pass, we took care of ordering a Ford F-250 through email.
Sam Dunn
2/26/20 Reply





I told them I had the pass and they gave me the deal great to work with
Brad Bollman
2/10/20





Thank you for helping us and continuing to look for a vehicle that will meet our needs.
Ronda Eade
2/7/20





I did not know what to expect when i signed up for my VIP pass. I figured it out real quick. Not 3 minutes after I filled out the information for the VIP pass, I received a phone call from Smith South Plains Ford in Levelland. I set up a time to meet
More...
Chris Edwards
1/24/20 Reply





Got a good price on a 2016 MKX Reserve and a fair value for my trade-in. Very pleasant experience.
James Smith
7/5/19 Reply
Car Buying Resources
Expert advice from over two decades in the car industry.