This week I'm excited to bring you the all-new and very retro 2021 Ford Bronco, a true off-road SUV. It's pretty clear Ford is aiming directly to take business away from the popular Jeep Wrangler.
It's amazing how many different ways you can order a Bronco. There are 7 different trim packages and you can get any of them in a 2- or 4-door model. There are two engine choices, two transmission choices, and two roof choices. The one constant is all Broncos are 4-wheel drive. Since time won't permit going through all the variations, let's focus on my review vehicle.
This is the Outer Banks 4-door edition, the one I would describe as the most luxurious and for me, the one that would make the best daily driver. This is not the best choice for serious off-roaders that might also be considering a Jeep Wrangler Rubicon.
Powertrain
This one has the 2.7-liter V6 twin-turbo EcoBoost, mated to a 10-speed automatic. Together they put out 330-horses and 415-pound feet of torque. It will tow 3,500 pounds. There is also a smaller 4-cylinder available with an automatic or manual transmission.
Exterior
The exterior is very square and-although larger-it is reminiscent of the first Bronco that came out in 1966 except with modern flairs like: 18" wheels, tow hooks, running boards, and LED headlights. People have remarked all week how cool they think it looks, and I agree.
Interior
So the Bronco is retro on the outside, but very nice on the inside. I was surprised to see two-tone black and tan leather seating when I opened the door as you'd find in a much more expensive SUV.
I sat behind the heated steering wheel with controls, hit the start button, and an 8" instrument screen came to life in front of me and held a lot of pertinent information at the touch of my fingertips.
In the middle of the center stack, up high, is an optional 12" touch screen that houses the Sync system, which works very well, is quick, and simple. The standard screen is 8".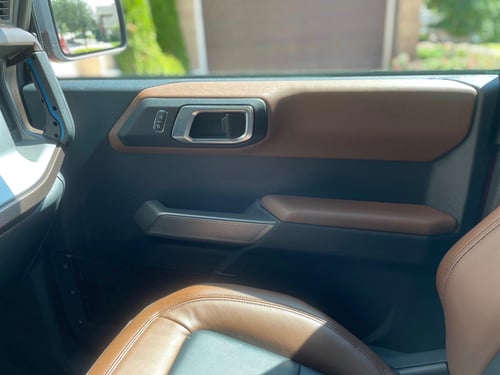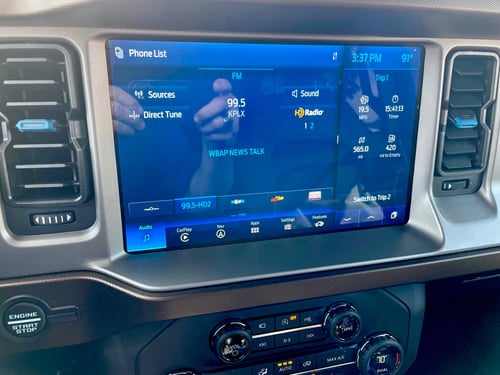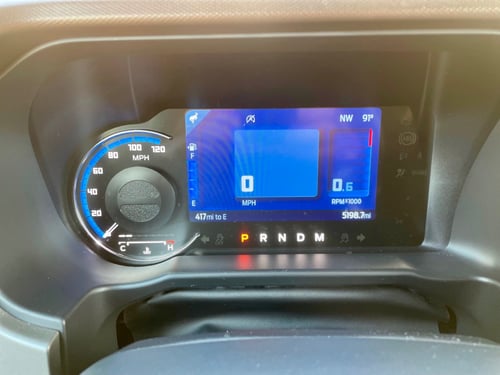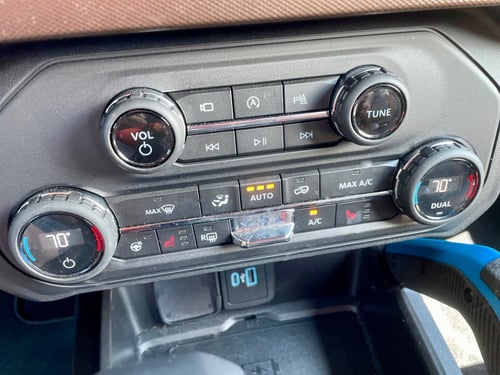 This runs the B&O audio system, navigation system, apps, the setups, and the extra features, including Apple CarPlay and Android Auto.
Above the screen on top of the dash, is a holder for a video camera, USB ports, and buttons to change the differential settings for when you are doing serious off-roading.
The center console area is quite busy. There are cup holders, automatic temperature controls, the start/stop defeat button, and a cell phone charger.
This is also where you change the GOAT modes. GOAT stands for "goes over any terrain." Turn the rotary dial to choose from normal, Eco, Sport, Slippery and Sand, Mud/Ruts and Rock Crawl for off-road driving.
Just below the armrest are the power window buttons. Although it seems like a funny spot for them, the doors come off, so with the buttons in the console, there is only one wire to disconnect if you take the doors off, and that is for the power door locks.
Back seat head and leg room are both good and the occupants get a fold down armrest, rear window buttons, USBs, and 110-volt power outlet. The back seats sit up a tad higher for a stadium seating effect.
Utility
Moving to the cargo area, you open the tailgate that has the spare tire on the outside, then raise the back glass. The cargo area has 35.6 cubic-feet of cargo area, but if you lower the second-row seats, it increases to 77.6 cubic-feet.
Let's talk about configuring the Bronco. You can take all four doors off, and the entire hardtop comes off, albeit it will take two people. You can remove two panels over the front seats to soak in the sun, and there is one larger, solid panel over the second-row seats. Although more complicated, you can remove the rest of the top. It would be a task, but it can be done, or just opt for the soft top which you can fold back easier, but won't be as quiet inside as the insulated hard top. The Bronco comes with all the tools needed to go completely topless.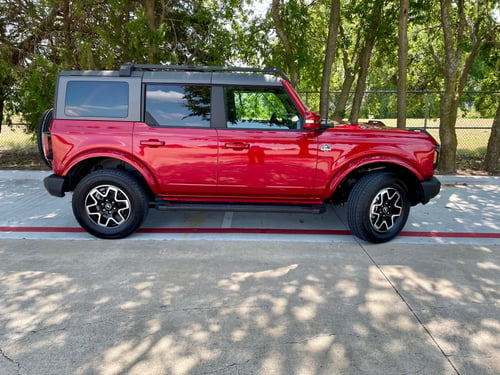 Standard Equipment and Options
The Outer Banks comes well equipped with many great features, especially on the safety front. You get adaptive cruise control, lane keep assist, emergency braking, 360-degree cameras, blind spot monitoring, and a lot more.
The larger engine, the colored hard top, and the leather interior are the most expensive options. One cool $395 option is storage bags for the roof sections and the doors when you take them off for safe storage in the cargo area and to keep them from getting scratched. This would be a must have.
Fuel Economy and What You'll Pay
Fuel economy is rated at 20 city, 22 highway, and 21 combined. MSRP as equipped is $53,355. I drove the Bronco to Norman, OK. While I had it on the road at an 80 MPH average, it got just shy of 20 miles per gallon.
Ride and Drive
Let me make a couple of things clear. No matter what Bronco you choose, make no mistake, these are truck-based, true off-road SUVs. With that you get a little rougher ride, but you also get a lot of longevity and reliability. Also, like the Wrangler, expect it to be loud inside. It's not horrible at 70 MPH, but when you get to 80 and above, it gets tough to talk on a cell phone.
Verdict
A new Bronco was a long time coming, 25 years to be exact, but I applaud Ford for giving people so many choices in this off-roader. It's easy to see why these are sold out so far in advance.

What I Liked Most: The looks, the interior, and the handling.
What I would change: Would love it if it were a little quieter inside.
Fuel Economy: 20 city/ 22 highway/ 21 combined.
Odometer reading when tested: 5,100 miles.
Official Color: Rapid Red Metallic.
Weight:

5,320 pounds.

Spare Tire: Full-sized spare, standard wheel.
Length-Width-Height: 173.7" long/86.2" wide/73" high.
Fuel Tank Capacity: 20.8 gallons with the filler on the driver's side.

Towing Capacity: 3,500 pounds.
2021 Ford Bronco Outer Banks in a few words: An eye-catching, serious off-road SUV that is great as a daily driver.
Warranty: 3-year/36,000 mile bumper-to-bumper, 5-year/60,000 mile power train with roadside assistance.
Final Assembly Location: Wayne, Michigan.
Manufacturer's website: Ford