This week, we are looking at a convertible, the 2022 Audi S5 Cabriolet Prestige, a luxury soft-top convertible.
Exterior
I love the lines and the looks of this roadster and the 20" wheels and quad exhaust are fantastic. However, let's address the elephant in the room: the District Green exterior.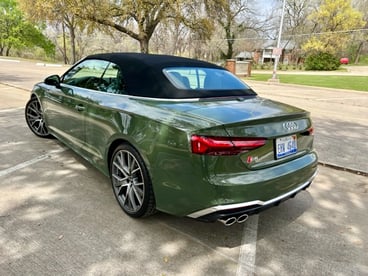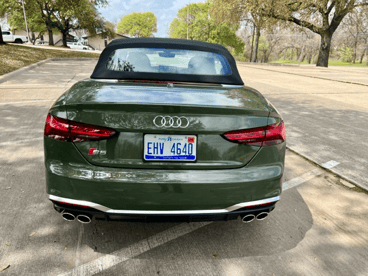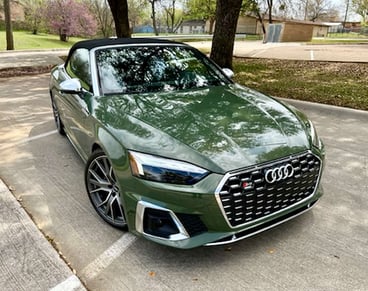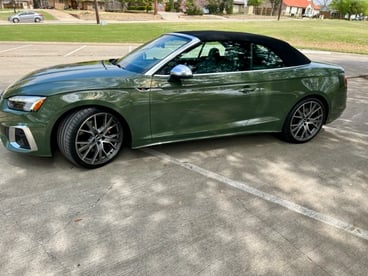 My Facebook followers rejected it as a whole, but don't let that distract you from an outstanding car. Some people who have seen it in person liked it. The unusual green has a black top but grey interior. Somehow it almost works for me.
Performance
Under the hood sits a 3-liter turbocharged V6 putting out 349-horses and 369-pound feet of torque. 0-to-60 is 4.8 seconds and top speed is 155-miles per hour. It is mated to an 8-speed shiftable automatic that is smooth and determined.
Interior
As Audi always does, the interior is terrific. Quilted soft leather seats greet you and there is a great mix of carbon fiber and black lacquer that gives off a very elegant vibe.
The gauge cluster is configurable and you can change the view from the heated steering wheel. The colors are vibrant and it is easy to read.
Center dash up high is a 10.1" touchscreen that operates the 3D Bang & Olufsen sound system, navigation system, settings, Bluetooth for your phone, Apple CarPlay, Android Auto, and much more. Scroll to the left for more apps.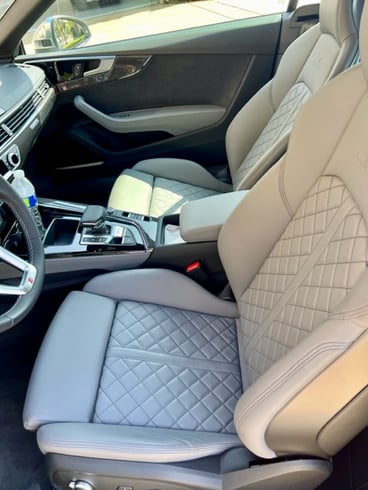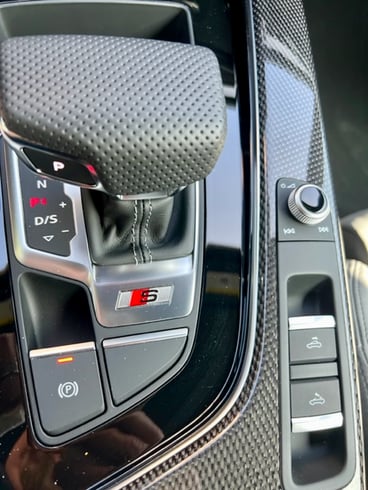 Just beneath that all the climate controls, the drive mode selector where you can choose from comfort, auto, my favorite dynamic, or individual. There is also the start/stop disable, park assist, automatic parking system button, and you can turn off the touchscreen if you wish.
The center console holds a stubby gear shifter, controls for putting the top up and down, two cup holders, and a USB and power supply.
The armrest is soft and slides forward and backward, and inside is another USB and power port, and a built-in cell phone charger that can be accessed without opening the lid.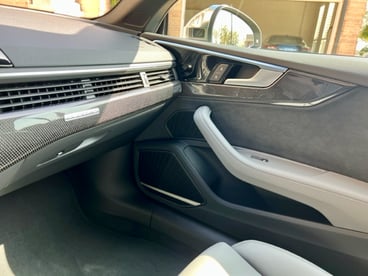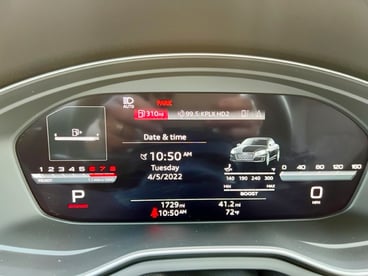 As you look at the back seat, it is pretty much for children, but Audi makes it easy to get back there. There is a pull lever to fold the seat forward, or you can hit a power button to slide the entire seat towards the front of the car.
Trunk space is as good as it gets with a convertible. Levers in the rear will drop the back seats down for more room if needed.
Speaking of the top, it will raise and lower in 18-seconds which is quite fast. I debate between a soft top like this, or a retractable hard top and there are pluses and minuses for each. The soft top takes less room in the trunk, the hard top gives more ride stability and is quieter inside. It's close, but my preference overall, is the hard top even given the loss of trunk space.
Standard Features and Safety
This is a luxury convertible and it comes loaded. It has everything you see here and includes a great head-up display, keyless entry, heated front power seats, automatic LED headlights, power trunk release, and more.
It also comes with all the latest safety features such as adaptive cruise control, a terrific rearview camera, collision and pedestrian warning, lane departure warning, and blind spot monitoring.
Ride and Drive
The S5 Prestige drives great-top up or top down-the acceleration is strong, the exhaust sounds terrific, and in Dynamic mode, it handles like a true sports car.
Verdict
Fuel economy was surprisingly good at 21 city and 28 highway. Total MSRP as you see it $73,540.
If you are in the market for a ragtop, this one would be hard to beat for the money.

What I Liked Most: Acceleration and handling.
What I would change: I'd love to have a brake auto hold system.
MSRP: Base price: $63,000 as equipped:

$73,540

.
Fuel Economy: 21 city/28 highway/23 combined.


Odometer reading when tested: 1,800 miles.
Weight: 4,167 pound curb weight.
Spare Tire: Compact Temporary.
Length-Width-Height: 108.8" long/79.9" wide/54.4" high.
Fuel Tank Capacity: 15.3 gallons with the filler on the passenger side.
Official Color: District Green.
Towing Capacity: N/A.
2022 Audi S5 Cabriolet in a few words: A really great ragtop that is fun to drive and is a terrific performer.
Warranty: 4-year/50,000-mile bumper-to-bumper with roadside assistance.
Final Assembly Location: Neckasulm, Germany.
Manufacturer's website: Audi