This week we are taking a look at the all-new 2022 Kia Carnival. Kia has carefully avoided using the word minivan in everything it does, instead calling it an MPV: Multi-Purpose Vehicle.
Exterior
The bold and boxy exterior makes it look less minivan-ish for sure. At a glance, you think SUV. Note the beautiful grill made up of many rectangles that are slightly concaved. 19" wheels look great, and I love the brushed aluminum applique that starts behind the passenger window and continues across the rear. Note the pattern also ties into the dash, and you get to see the new Kia logo. Kia also hid the rear wiper under the spoiler, something I always love to see.
Powertrain
Under the hood is a proven 3.5-liter V6 putting out 290-horses and 262-pound feet of torque. It is mated to an 8-speed automatic, so bottom line: no turbos and no CVT.
Interior
This is the SX Prestige model, the top-of-the-line, and the real magic begins when you open the driver's door and you sit down into the two-tone leather seats. As you hit the start button, two 12.3" screens come to life, but it looks like one huge screen.
Digital gauges are colorful and in the middle is a driver info center that operates from the steering wheel. The gauges change with each of the drive modes.
The center console houses the gear shifter, a switch for the drive modes, auto hold (one of my favorite features), two cupholders, USB ports, a power outlet, and a wireless phone charger.
Just above that are the air conditioning controls. Higher up is the infotainment screen where everything happens.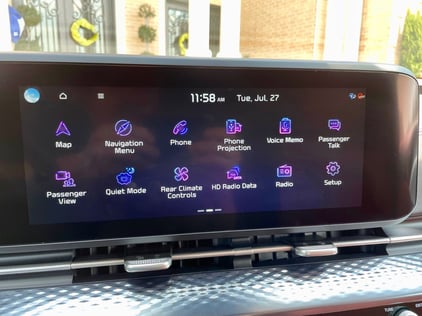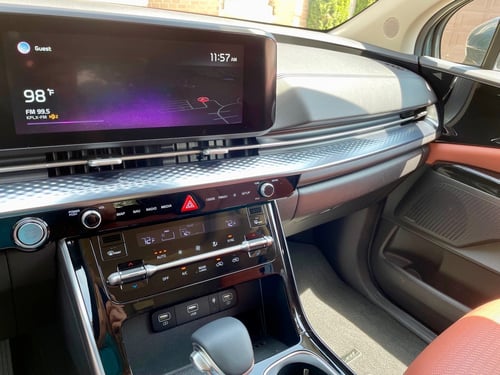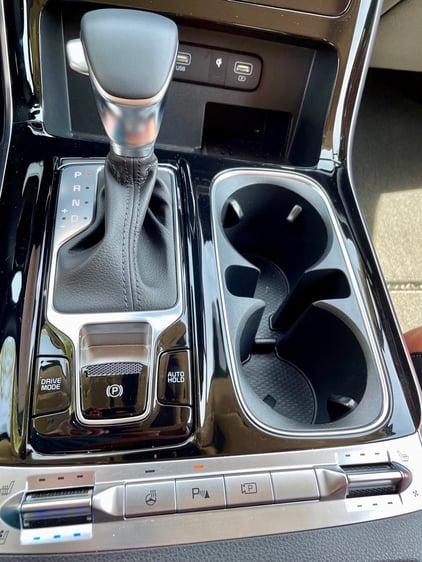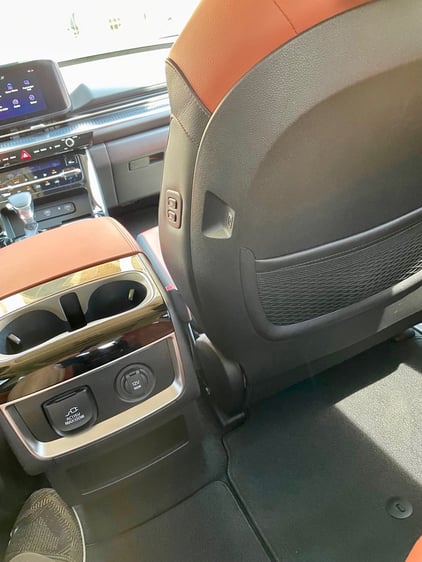 You operate the navigation system, blue tooth, the sound system, the setups are there and more. A swipe to the left gives you a second page where you can add your own apps. Just below the screen is the stainless-steel trim that matches the outside and it runs across the entire dash.
Some cool features from the touchscreen are Passenger Talk. This amplifies your voice to the second and third row seats, through the speakers.
Passenger View activates a camera fixed on the second and third row seats. Quiet Mode mutes the sound system except in the front, and on the next screen is Sounds of Nature, several calming sounds for when the stress levels are getting high.
It is the passengers who will enjoy the ride, however. Open either electric sliding door and enter what Kia calls the VIP lounge. Two power heated and cooled captain chairs in the middle look comfortable and inviting. One thing I've never seen before, the seats can slide sideways to put them together or to make it easier to get to the third row.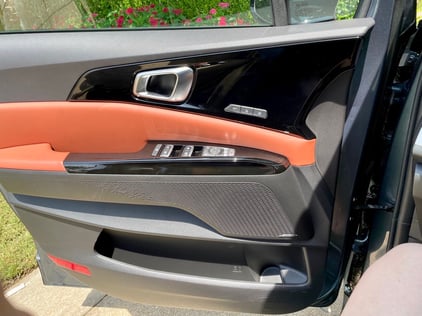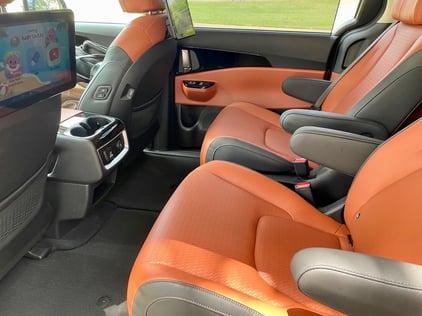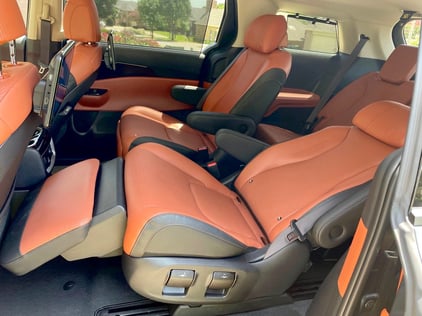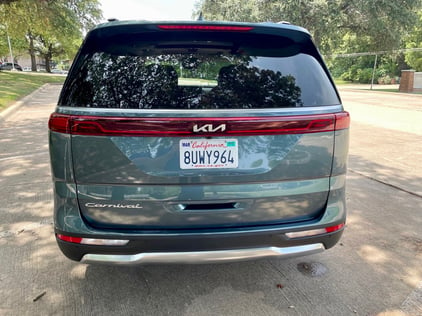 The seats recline way back and a power footrest rises for maximum relaxing. The right-hand seat passenger can control the rear temperature from controls on the ceiling, and the front passenger seat can be slid and tilted forward for ease of exit. Both front seats have USB ports built in for the rear seat passengers. There are screens to keep the sun out for the second-row occupants .
There are two LED screens attached to the front seats that allow you to stream anything from your Apple or Android device, wirelessly, and even has built-in child videos.
Third row seat leg and headroom were surprisingly good and these occupants also get a side window shade. Two adults in the third row would be very comfortable
Utility
Cargo area is good with a deep well for storage and the third row seats fold easily into the floor to make a huge cargo area, but the third row is manual, not power.
Standard Equipment
The only extra charge option on this Carnival is the Astra Blue paint, everything else is standard.
You get two separate moon roofs, wireless Apple Car Play and Android Auto, remote start, keyless entry, back seat reminder, 9 total USB ports, and much more.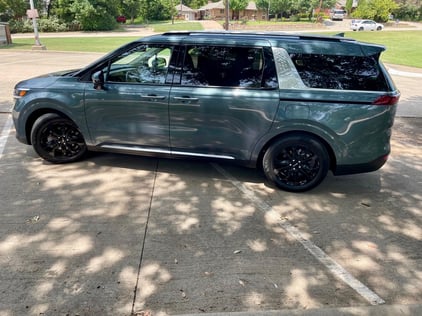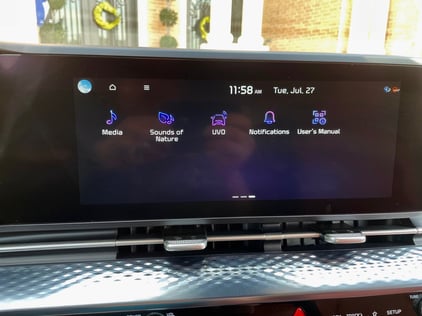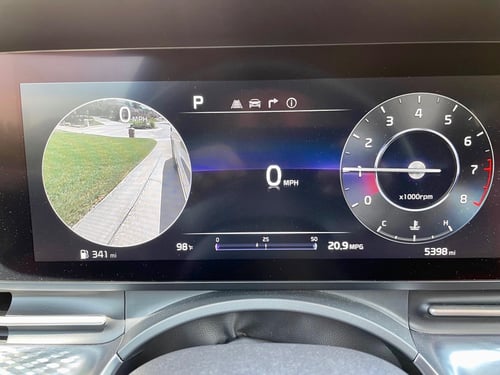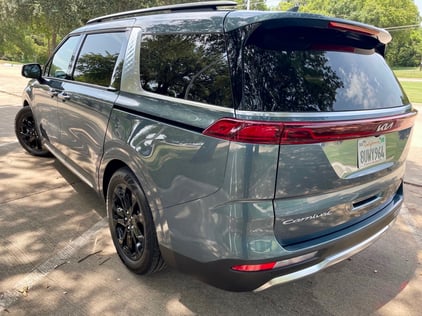 Safety
On the safety front, you get forward collision assistance, lane-keep assist, adaptive cruise control, reverse sensing, and blind-spot monitoring that you can see in the mirror OR on the dash. Cameras pop up on the gauge cluster to give you a bird's eye view of what is to your left or right.
Fuel Economy and What You'll Pay
Fuel economy is rated at 19 in town, 26 on the highway. MSRP as equipped is $47,770 and for me, that is an amazing price for everything you see here.
Final Thoughts
Just a couple of things of note: there is no start/stop system, how refreshing is that? Also, a nice touch I've not seen before: if you are stopped and the car in front of you goes, there is a gentle reminder after a few seconds. I can see this feature cutting down on some road rage incidents.
Look, I'm not a minivan guy, never have been, but if I were, at least for now, this would be my pick.

What I Liked Most: Cool, unique features and a great price.
What I would change: I wish it were available in all-wheel drive.
Fuel Economy: 19 city/26 highway/22 combined.
Odometer reading when tested: 5,200 miles.
Weight: 4,727 pounds.
Spare Tire: Compact temporary.
Length-Width-Height: 203" long/79" wide/70" high.
Fuel Tank Capacity: 19 gallons with filler on driver's side.
Towing Capacity: 3,500 lbs.
Official Color: Astra Blue.
2022 Kia Carnival MPV in a few words: If you think it's cool to drive a minivan, try this one!
Warranty: 5-year/60,000 mile bumper-to-bumper, 10-year/100,000 mile power train warranty.
Final Assembly Location: Sohari, Korea.
Manufacturer's website:Kia

Up Next:2021 Jaguar F-Pace SUV.