This week we are taking a look at the 2022 Kia Sorento SUV, a very popular 3-row SUV that slots just under the Telluride, but larger than the Sportage or Niro.
Looks
The exterior look of the Sorento is beautiful all the way around. I love the tiger grill that has become a mainstay on newer Kias, the 20" matte-finished alloy wheels are fantastic, it has bold lines, a sculpted hood, and a spoiler that covers the rear wiper, a feature usually found on way more expensive SUVs and a feature I like a lot, especially when going to a car wash.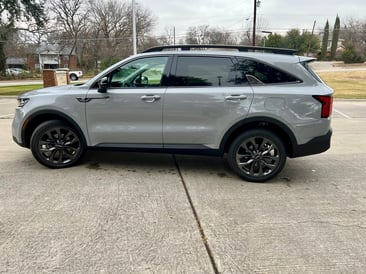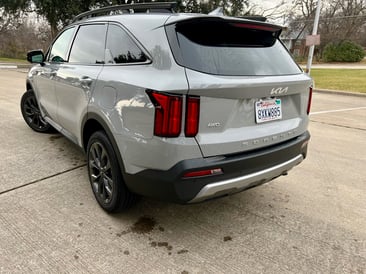 My review vehicle is the SX-Prestige, which is the pinnacle of the Sorento lineup. The X-line designation means it is all-wheel drive, has a more rugged appearance, and it has better ground clearance than the others. Arguably, this is the off-roader of the Sorento line, but it still feels more like a luxury SUV to me.
Powertrain
Looking under the hood, you find a 2.5-liter inline 4-cylinder engine that is turbocharged. It puts out a strong 281-horses and an even stronger 311-pound feet of torque. It will get you moving fast from a dead start. It is mated to an 8-speed automatic with shift paddles.
Interior
The big surprise came when I opened the door to enter the cabin. I was impressed with the first impressions of the interior. The seats are slightly bolstered with diamond patterns on the outside, stitching is everywhere, and very nice wood adorns the door panels and continues through the dash.
Hit the pushbutton start and the amazing 12.3" digital driver gauge cluster comes to life, welcoming you with a colorful and configurable info center in the middle.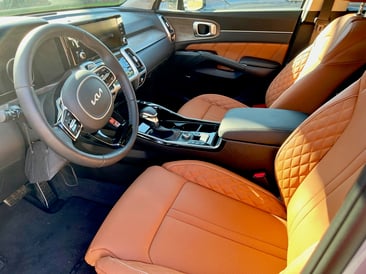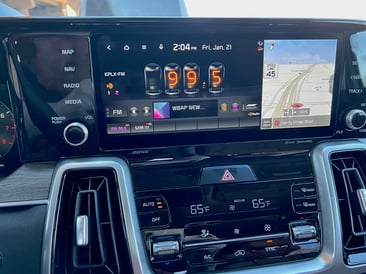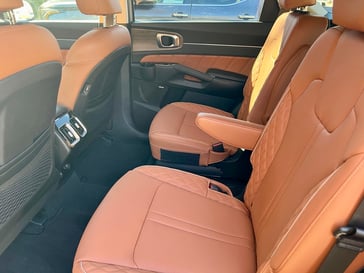 The center console is terrific with 3 USB ports and a wireless phone charger. There are two cupholders there and an extra cubby for your toll tag or phone if needed. This is also where you activate the Auto Hold, you can thankfully deactivate the start/stop and turn on the heated steering wheel. There are switches to turn on the heated and air-conditioned seats as well.
You can also activate the drive modes, and of course, sport mode is my favorite, but you will notice distinct differences between each mode.
High on the dash is a 10.2" screen to operate the Bose sound system, navigation, Apple CarPlay, Android Auto, the terrific front and rear cameras, and Bluetooth.
Also from there, hit the Passenger Talk button and it lets you speak to third-row passengers, but they can't talk back through a built-in microphone. Then there is Quiet Mode, which cuts off the speakers to the rear if someone is sleeping. The screen is fast and easy to use.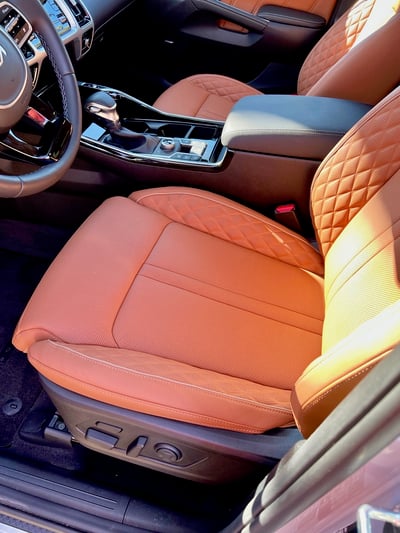 Moving to the second-row captain chairs, room is good and the seats slide, recline, and they are heated. There are rear A/C vents, and Kia cleverly put USB ports in the back of the front seats.
Third row seat room is fairly limited, best suited for kids, but not comfortable for adults. If you need more room, step up to the Telluride.
Utility
Going to the cargo area, it's also limited but there is some underneath storage. The third-row seats manually drop easily for a flat cargo area, and they are easy to put back up.
Standard Equipment
The Sorento SX-Prestige comes loaded with everything you see here, including a massive panoramic moonroof, keyless remote and remote start, dual front power seats, power liftgate, park assist, and a lot more.
Safety
Safety-wise, it has blind spot monitoring, forward collision assist, cross-traffic alert, lane keep assist, and rear seat alert if anything or anyone is left in the back.
The blind spot system not only shows in your mirrors, but you get a full side view of the road behind you when you use the blinkers. Both side views show up on the gauge cluster, directly in front of you, depending on which direction you are switching to. Very impressive.
Fuel Economy and What You'll Pay
Fuel economy is 22 city and 27 highway. Total MSRP as you see it here is $45,120 and frankly, it's amazing you can get this much SUV at that price.
Verdict
Kia killed it with this Sorento, it has been a runaway hit since it came out last year, just like the Telluride has been. It is an outstanding value and of course you get the 10-year/100,000 mile warranty with it.
If you want a Telluride, but you really don't need all that 3rd row seat room, look at Sorento instead and pocket about $5,000.

What I Liked Most: The interior, standard features, and interior quietness.
What I would change: Actually nothing, it's a super nice SUV.
MSRP: Base price $43,090, as equipped $45,120 with transportation.
Official Color: Wolf Gray.
Fuel Economy: Rated at 22 city/27 highway/24 combined.
Odometer reading when tested: 40

0 miles.

Weight: 4,120 pounds.
Spare Tire: Inflator Kit.
Length-Width-Height:

189" long/75" wide/70" high.

Fuel Tank Capacity: 17.7 gallons with the filler on the driver's side.
Towing Capacity: 3,500 pounds.
2022 Sorento in a few words: Another outstanding SUV from Kia with a great warranty and luxurious interior.
Warranty: 5-year/60,000 mile bumper-to-bumper with roadside assistance, 10-year/100,000 mile power train warranty.
Final Assembly Location: West Point, CA.
Manufacturer's website: Kia
2021 Kia Sorento Video Reviews