This week, we're taking a look at the 2022 MINI Cooper John Cooper Works edition. This little hot hatch was restyled for 2022 with new front grill and rear diffusers. There are some slight interior enhancements as well.
Exterior
The exterior appearance is sharp with 18" wheels, a red roof, red mirrors, and other red components like the big red Brembo brake calipers. A rear spoiler and center-mounted dual exhaust complete the sporty look.
Powertrain
Just so you know, John Cooper Works, or JCW for short, is the exclusive in-house tuning, development, and international automotive racing division for MINI. Although founded in 2002, John Cooper Works has been associated with MINI since 1961. JCW builds specially tuned, performance-inspired MINI cars for the street and they are much different than regular Minis.
Under the hood, you'll find a 2-liter, 4-cylinder turbocharged engine putting out 228-horses, and 236-pound feet of torque. That is impressive in a small sports car. My tester has a 6-speed manual, which I prefer, but an 8-speed automatic is optional.
Interior
Moving to the inside, the MINI has a lot unique features. The gauge cluster is actually mounted to the steering column, which is nice. When you adjust the wheel, it moves as well. It is easy to read and just above there is a head-up display that features traffic sign recognition.
Seats are heavily bolstered, but comfortable and hold you in place when taking hard corners-which the JCW handles with ease.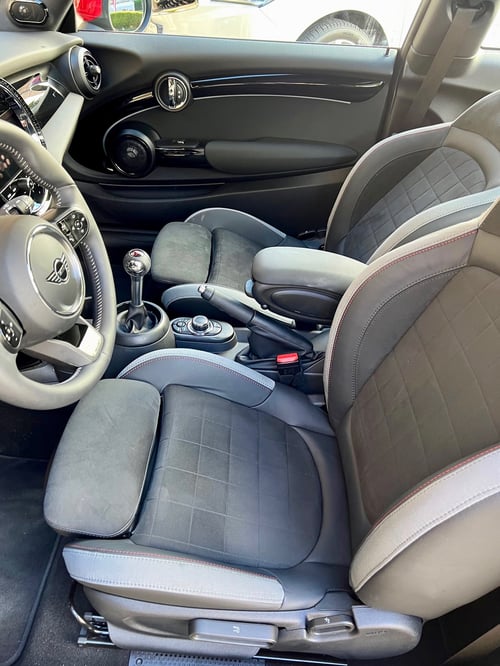 The center console armrest is small, but has a cell phone charger in it, and under it is the controller for the sound system, navigation, and Bluetooth. You can scroll from the round knob or it works as a touchscreen. I was surprised at how tall the gear shifter is, but it works great.
The center screen is 8.8-inches and completely round. On the outside is a lit circular display that lights farther around the more RPMs you turn.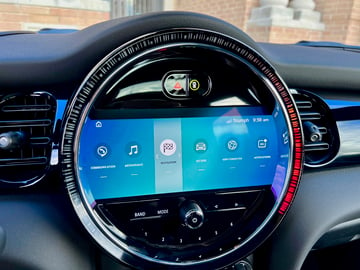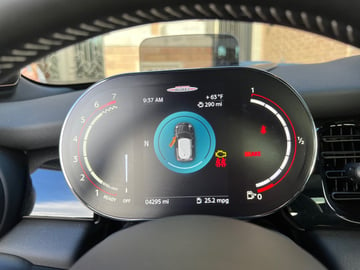 Under that are the automatic air conditioning controls, and just under that are the signature MINI Cooper toggle switches. The middle switch is the start button and to the left of that is the start/stop disable switch, to the right is the one to disable traction control, and far right is the drive modes switch. You can choose from Sport, Mid, or Green for the best fuel economy. Each setting makes a drastic difference in ride, performance, and handling.
Back seat room is limited, as you would expect but would be great for a couple of kids. Cargo area is also limited, but with the back seats folded down, you can get 34-cubic feet of cargo area.
Options and Standard Safety
There is only one option on my tester, the $7,000 Iconic Trim package which gives you a heated steering wheel, keyless entry, a two-part panoramic moon roof, Harmon Kardon sound system, and Dynamic Damper control. Everything else you see is standard equipment.
On the safety side, you get forward collision alert, lane departure warning, LED headlights, and a top-notch rear camera. I do wish it had blind spot warnings, something always needed in a 2-door vehicle.
Verdict
The MINI JCW is a ton of fun to drive, especially in Sport Mode, handling and steering are precise, and the exhaust sounds are really good.
Gas mileage is rated at 22 city and 34 highway. Total MSRP is $40,750.
I'll be honest, these little hot rods are not my deal, but if you are into them, the MINI JCW is probably the best choice all around.

What I Liked Most: Ride, drive and handling.
What I would change: Blind spot warning should be standard equipment.
Fuel Economy: 22 city/31 Highway/25 overall.
Odometer reading when tested: 4,100 miles.
Weight: 2,892 Pounds.
Spare Tire:

N/A.

Length-Width-Height: 152.8" long/68" wide/55.7" high.
Fuel Tank Capacity: 11.6 gallons with the fuel filler on the passenger's side.
Official Color: Moonwalk Grey Metallic.
Towing Capacity: N/A.
2022 MINI Cooper JCW Edition in a few words: A fun, zippy, compact sports car that makes you smile!
Warranty: 4-year/50,000-mile bumper-to-bumper with roadside assistance, 3-years or 36,000 miles of free maintenance.
Final Assembly Location: Oxford, United Kingdom.
Manufacturer's website: MINI
Next Up: 2022 Infiniti QX80 Sensory 4x4